How to Keep a Food Journal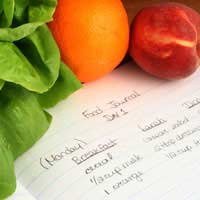 Keeping a daily food journal can help you become more aware of your eating habits so you will be able to see clearly which ones are healthy and which ones need changing. You will also be able to look back and see your progress as you move through your new healthy diet and weight loss programme. Studies show that people, who successfully keep their weight off, continue to monitor what they eat and how active they are in some way. This could be with some form of diary, or in their head. It will be a matter of finding out what works best for you.
Use a small note book that you can carry around with you and keep it handy at all times. Divide the pages into columns for each meal or save a page for each meal if you prefer to keep a more detailed account.
On the first page make a note of your starting weight and your diet goals. Remember to be realistic. Do not set goals that are too far beyond your means otherwise you will become frustrated and will be more likely to quit early on in your programme. You could also add health goals such as reducing your blood pressure and cholesterol levels.
You may also want to set up columns or pages along side your food and eating journal to record your exercise habits so that you can compare the amount of calories that you are consuming to the amount that you are burning.
Recording Your Eating Habits
Record the date and time of day of your meal or snack.
List the ingredients of the meal, serving size and what you had to drink with each meal or snack.
Note where you ate the meal, whether you prepared it yourself, whether it was pre-cooked or whether you ate it at a restaurant.
Make a note of why you are eating the meal, your feelings about the meal (i.e., whether you enjoyed it, or felt guilty for eating it), and also how you felt after the meal.
Don't forget to enter everything that you eat into your journal.
How to Interpret Your Journal
Take note of eating habits. Do you eat regularly? Do you have a tendency to eat more at a certain time of the day? Do you crave certain foods? Are you truly hungry when you eat? Are your portions larger than they need to be? Are you skipping meals? Are you bingeing? Are you eating for emotional reasons?
Compare the types of food you eat and the sizes for the portions with the recommendations for the food pyramid or the specific diet that you are following. How do they compare? Do you have room for improvement?
Highlight areas where you have been overindulging and you can make healthier replacements or cut some foods out all together. Remember to keep you diet balanced. Don't starve yourself or you will end up overcompensating later.
SAFE SLIMMING IS FOR SALE.
This website is for sale [more info].
You might also like...