The Basics of Maximum Metabolism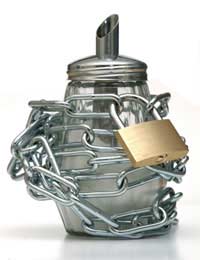 Reduce the Fat in Your Diet
Fat build up will slow down your metabolism and so will lead to increased weight gain. Don't worry about not getting enough fat, there is plenty in lean chicken and fish as well and fruit and vegetables, so you won't go short. The important thing is to choose the right fat.
Saturated Fats
Saturated fats are those that are solid at room temperature. They generally come from an animal source, and include butter, lard and suet. Cream contains saturated fat, but because it also contains milk it remains liquid (on the label you can see how much fat it contains). Processed and fast foods are also saturated. Saturated fats are the very unhealthy fats. They make the body produce more cholesterol, which may raise blood cholesterol levels. Excess saturated fat is related to an increased risk of cardiovascular disease.
Monounsaturated Fats
Monounsaturated fats are the preferred choice because they tend to lower the blood cholesterol level. The most commonly available monounsaturated oils are avocado oil, canola oil and olive oil, which are high in HDLs.
Polyunsaturated Fats
Polyunsaturated fats are found in most nut, seed and vegetable oils. Traditionally they have been combined with dairy foods to make margarine and cooking oils. It was originally thought this would be a healthier alternative to butter and other saturated fats, but recent findings contradict this. The very process used to make margarine (beating the oil) actually saturates it.
Trans Fats
These fats are called hydrogenated fats. These are fats that are created when oils are "partially hydrogenated" The process of hydrogenation changes the chemical structure of unsaturated fats by adding hydrogen atoms to make the fats more saturated. Trans fats may increase the risk of cardiovascular disease even more than the intake of saturated fats.
Only eat Starch in the Morning
You need to eat just enough starch in the morning to cut down on your cravings for the rest of the day. Too much starch however, will start to slow down your metabolism. You may still get afternoon cravings for a few days but if you can ride it out beyond that you will soon start to notice a difference.
Cut Down on Caffeine
Many nutritionists believe that a high caffeine intake will sabotage any diet. If you want to maintain maximum metabolism, stick to one cup of coffee or tea each day, preferably decaffeinated. Caffeine is a stress on your system and will affect your mood, and your hormone levels as well as your metabolism.
Say Goodbye to Sugar
Sugar is a major combatant to any dieter and must be eliminated. Surprisingly, sugar can take as much a toll on your system as caffeine. It's not only the calories in sugar that are problematic. Eating too much sugar can raise your blood-sugar levels to alarming heights. In response the body secretes insulin from the pancreas to help the cells absorb sugar. If you are a real sugar addict and you're over-consuming sugar then your pancreas will overreact, producing an excess of insulin. This depresses your blood sugar severely. In response the adrenal glands release anti-stress hormones, which in turn release the sugar that is stored in the liver for emergencies. So your energy levels and your moods will go up and down like a yo-yo.
You might also like...