How Much Do You Know About Basic Nutrition?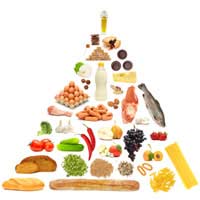 Most of us strive to have a healthy diet, and make sure that our families eat healthily as well. While that may sound straightforward, preparing meals that are both healthy and satisfying, and eating only nutritious snacks, is not always an easy task. Are you really getting the balance right?
Take this short questionnaire – just ten questions in all - to see how much you really know about basic nutrition. The results may surprise you…
Basic Nutrition Quiz
One nutrient is generally seen as our bodies' main structural component, so making sure we have the right amount in our daily diet is important. Is it:
1) Protein
2) Fat
3) Carbohydrates
What is the best source of vitamin E, which can help prevent against heart disease and prostate cancer?
1) Almonds
2) Fortified breakfast cereals
3) Wholemeal bread
We get omega-3 fatty oils from consuming certain foods. Which food listed below would be the best source?
1) Oily fish
2) Cooking oils
3) Oily soups
One nutrient is generally seen as the main energy source our body needs. Is it:
1) Carbohydrates
2) Protein
3) Fat
What percentage of your daily diet should, ideally, come from fat?
1) About 30 – 35 per cent
2) About 60 per cent
3) About 10 per cent
How many servings of fruit and veg are recommended per day?
1) At least five
2) Two
3) Four
All of these are good sources of vitamin C, but which one has the most of this important nutrient?
1) 200g of chopped green chilli peppers
2) 200g diced tomatoes
3) 200g sliced orange segments
All of these contain a good supply of calcium, which is needed for strong bones and teeth. Which has the most calcium?
1) 1 cup sardines
2) 1 cup goat's milk
3) 1 cup cow's milk
A lot of foods get bad reputations over the years, when research comes out claiming it is good or bad for our health. Which of this much-maligned foods is now thought to be very good for us - in moderation?
1) Eggs
2) White four
3) Sweets
Research has shown that we need some fat in our diet, and that there are "good" and "bad" fats. Monounsaturated fats in particular can be an important part of our diet. Which is a good source of monounsaturated fat?
1) Avocados
2) Veal
3) Chemically altered vegetable oil
Answers:
Believe it or not, the correct answers are all number one. If you are answered yes to the first answer on the list every time, then you got all the answers correct! You know a lot about nutrition, and try to eat right.
Healthy eating is all about making the right food choices. What we eat and have a tremendous effect on our overall health, and the food choices you make will reduce your chances of getting certain diseases.
Eating healthily can help reduce your risk of heart disease, certain types of cancer, and diabetes. It can also help cut down the chance of getting depression and other illnesses such as Alzheimer's disease.
Not only that, but eating right will help you look and even feel better, giving you the energy you need to have a happy and productive life. The future, literally, is in your hands…
You might also like...