The Raw Food Diet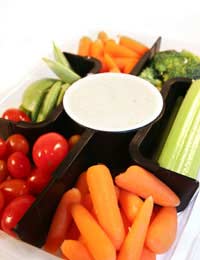 What is a Raw Food Diet?
The food raw diet is exactly as its name states. It is based on consuming unprocessed, whole plant-based foods, at least 75 per cent of which should be uncooked. The foods should preferably be organic to avoid contact with pesticides. It consists of:
fresh fruits and vegetables
nuts
seeds
grains
beans
legumes
seaweeds
dried fruits
sun-dried fruits
wheat grass
freshly made fruit and vegetable juices
purified spring water
fresh coconut milk
The Benefits of The Raw Food Diet
Raw foods contain more essential food enzymes than cooked foods. Cooking foods above 116 degrees Fahrenheit destroys enzymes. Techniques used to prepare foods in the raw diet include sprouting seeds, beans and grains, soaking nuts and dried fruits and vegetables and juicing fruits, vegetables and wheat grass. The only heating involved uses a dehydrator which blows hot air through the food at temperatures below 116 degrees.
Why are Enzymes Important?
Digestive enzymes are necessary to break down the proteins, fats, and carbohydrates that we eat. Proponents of the raw diet also believe that the cooking process destroys vitamins and minerals and that cooked foods take longer to digest and also allow partially digested proteins, fats and carbohydrates to clog up our arteries and gut.
Benefits of The Raw Food Diet
increased energy levels
improved appearance of skin
improved digestion
weight loss
healthy weight maintenance
reduced risk of high blood pressure
reduced risk of high cholesterol
reduced risk of heart disease
reduced risk of digestive disorders
If you are thinking of embarking on a raw food diet than you need to plan your meals carefully to ensure that your diet is nutritionally balanced and that you are getting your required minerals and vitamins each day. You may also need to consider taking dietary supplements such as calcium, iron and B12. Although advocated of the raw food diet believe that it is possible to get more phytonutrients from raw foods, studies have shown that some nutrients are more readily absorbed by the body when food is cooked or processed, for example, lycopene in tomatoes and carotenoids in carrots.
Some people experience a detoxification reaction when they start the raw food diet, especially if their previous diet was rich in sugar, meat and caffeine. Mild headaches, cravings and nausea can occur but usually last for a few days.
If you think it sound boring it doesn't have to be, though it can be time consuming. Exciting raw food recipes include a burger made from raw nuts and veggies. The 'bun' made from uncooked sprouted grains and veggies, moulded into a burger bun and dehydrated. A honey -mustard sauce served on the side along with a helping of jicama French fries and a pizza with the crust made from sprouted grains and/or seeds, and veggies and then dehydrated. The tomato sauce is made from sun-dried tomatoes, dates, garlic, and herbs. The creamy cheese topping is made from a variety of nuts and vegetables and spices. The pizza is topped with avocadoes, mushrooms, spinach and onions.
You might also like...