Calorie Restriction Without Hunger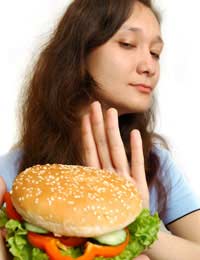 Calorie restriction can not only help reduce weight, but studies show it can also help you live longer. In fact, calorie restriction, within moderation, is one of the most effective methods of anti-aging. Many people however misunderstand this approach to both weight loss and anti-aging, assuming that it means maintaining a lifestyle of near starvation and constant hunger, which of course is detrimental to good health. If practiced correctly calorie restriction can not only lead to controlled weight loss and healthy weight maintenance, but also only occasional hunger and other health benefits such as lowering risk factors for heart disease, high blood pressure and high cholesterol.
How to Practice Healthy Calorie Restriction
Healthy calorie restriction (HCR) doesn't have to leave you feeling so hungry that you feel like gnawing at your fingers. To practice HCR effectively you need to reduce calorie intake by 10 percent to 25 percent and at the same time follow a healthy, nutrient based diet which excludes foods poor in nutrients such as white flour and refined sugar. Remember, limit calories, but don't skimp on nutrients.
Hunger can never be completely eliminated but there are steps you can take to reduce those troublesome pangs. Studies have shown that a diet rich in nutrients, complex carbohydrates such as wholegrain breads, oats, muesli and brown rice, soluble fibre and lean protein, can reduce hunger. Consuming fibre before meals can also reduce the absorption of simple carbohydrates and help decrease the post-meal surge in insulin.
Average British Diet:
Total energy intake - 18 percent protein, 32 percent fat, 50 percent carbohydrates.
Calorie Restricted Diet:
Total energy intake - 26 percent protein, 28 percent fat, 46 percent complex carbohydrates.
Because there is the danger that if you follow such a diet you might not get the full range of vitamins and minerals you need, individuals following a calorie restricted diet should eat nutrient-dense foods. To do this make sure you eat a wide variety of vegetables, fruits, nuts, dairy products, egg whites, wheat and soy proteins and meat. In this way, you will ensure that you get more than 100 percent of your RDI (recommended daily intake) for all essential vitamins and minerals. You could also consider taking a multi-vitamin supplement.
Calorie Restriction and Good Health
Washington University scientists examined people who limited their calorie intake and avoided processed foods for an average of 6 years. The results were startling, compared to age-matched individuals on typical American diets, the HCR group was found to have the health of people decades younger.
The HCR group's total cholesterol levels were quite low. High-density lipoprotein (HDL), or "good" cholesterol, was high. Low-density lipoprotein (LDL), or "bad" cholesterol, was extremely low. So were triglyceride readings.
The HCR group--with an average age of 50--had blood pressure readings similar to those of the average 10-year-old, low in both the upper and lower numbers.