Ordering in a Restaurant When You're Dieting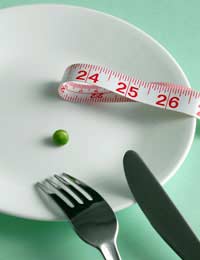 Being on a diet is hard enough as it is, but having to put up with all sorts of temptations when you're in a restaurant can make sticking to a healthy eating plan even harder.
Some dieters choose to forsake restaurants meals altogether when they're on a diet. But what happens if your job requires you to eat out with clients on a regular basis, or if going out to lunch or dinner is a big part of your social life?
There's no need to give up restaurant fare completely if you're watching your weight. You just need to know how to eat sensibly - and order right. Making healthy choices is lot easier than you might think!
Eating Out, Eating Sensibly
Depriving yourself of everything you love to eat isn't a good idea when you're on a diet. Allowing yourself to have a little of what you fancy is (usually) a good idea. Here are some ideas to help you have your cake – and eat it...
Have a small snack before you go, such as an apple or an orange. Arriving at a restaurant absolutely starving won't put you in the right frame of mind to order sensibly.
Drink plenty of water. Some dieters eat a healthy restaurant meal, then ruin it all by washing it down with two glasses of coke and a bottle of wine. Stick to water. If you can't resist an alcoholic drink, order one glass of wine and nurse it throughout the meal.
Ask for a side salad. If your dish automatically comes with chips or another fattening side dish, ask for a salad – without dressing - on the side.
Take off the extra calories – when your order. If you order a chicken sandwich, ask for it plain – without butter or mayonnaise. Make sure your plate of asparagus comes without the Hollandaise sauce. Ask if your chicken can be grilled instead of fried. And if you order pasta, see if it can be wholemeal – and without the butter and cheese.
Know when not to nibble. If the meal comes with a basket of bread or bowl of peanuts, take a slice or a few nuts and ask the waiter to take the rest away. If they reappear, just say no.
Remember, you can still eat what you want – but without the extras. A hamburger on its own has 270 calories. Add a buttered hamburger roll, bacon, melted cheese, mayonnaise, guacamole, chips on the side and a coke, and the count is significantly higher.
Tips for Ordering Ethnic Food
You can also greatly cut down on calories in ethnic restaurants if you know in advance which dishes to order, and which to avoid...
Chinese Food: Spring rolls have less calories than egg rolls, and prawns are usually the least fatty option (avoid the fried ones). Ask for extra veg instead of noodles, and go for brown rice over white. Stay away from any fried meats, and go for clear soups. Using chopsticks will help you reduce the amount of sauce you eat, which is often laden with fat and salt. If the portion is huge, ask for a take-away box at the beginning and spoon half into it before you tuck in.
Indian Food: Tandoori-style food is not fried but baked, so has less fat. Avoid all fried appetizers and foods containing khopre (coconut oil) and ghee (clarified butter). Many vegetables dishes will be laden with fatty sauces, so ask which ones have fewer calories – usually those without cream or coconut milk. Ditto for all curries. Steamed rice is healthier than pilau rice, and remember that pappadoms usually have less calories than naan bread. And stay away from that Indian beer (or any beer!).
Italian Food: Drink plenty of water and order a salad with clear vinaigrette dressing before the main course arrives. Skip garlic breadsticks and have plain ones, and only eat the vegetable antipasto, avoiding the meats and cheeses. Stay away from pasta with creamy sauces and pizza; stick to non-creamy soups, grilled chicken or fish, and sauce-free vegetables. Anything breaded or fried should be avoided at all cost, and ask for extra veg instead of carbs. Fruit sorbet or fruit salad can be your best bet for pudding.
Restaurants provide us not only with delicious food and the chance to not have to cook, they also are a great place to celebrate a special occasion, entertain a client or enjoy a family get-together.
If you're on a diet there's no reason you should give up restaurant meals full-stop. But learn how to order wisely once you're there, and don't let a meal out sabotage your diet plans.
You might also like...