Can Stress Make You Fat?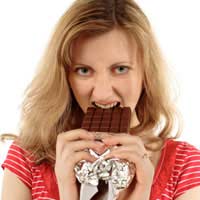 We all know that stress is a killer. It dramatically increases risk factors from many diseases including heart disease, high blood pressure, heart attacks and strokes. But can it make you overweight and even lead to obesity?
How Stress Affects us
Stress causes chemical changes in the body which lead to precise physiological mechanisms that convert a stressful event happening outside us into a stressful result inside us. Muscles contract to protect us from injury. Blood pressure rises, heart rate and respiration quicken to provide the energy we need to fight or take flight. Digestion shuts down. Blood will clot more quickly to slow blood loss from injury. The liver releases energy in the form of glycogen, raising blood sugar. All these processes are designed to cope with acute stress. Unfortunately, when these protective mechanisms are activated over and over again for years and years, they cause great physical harm.
Prolonged stress can lead to a number of problems ranging in seriousness including chronic muscle pain, inflammation, high blood pressure digestive disorders and even diabetes. And yes, stress can cause you to gain weight.
Latest Research on Stress and Weight Gain
Tene T. Lewis, PhD, a health psychologist at Rush University Medical Centre, in Chicago has done extensive studies on the relations between stress and weight gain in women. Dr. Lewis and her colleagues asked more than 2,000 women in their 40s and 50s, all participants in a long-term project called the Study of Women's Health Across the Nation, about negative or stressful life events they had experienced in the past year. The list of "bad things" women were asked about included being fired or laid off, experiencing major money worries, losing a loved one, or going through a divorce. Researchers discovered that the more stressors a woman reported, the more weight she had gained over four years, even after taking into account variables that influence weight, such as diet, exercise, smoking, and age.
How Does Stress Lead to Weight Gain?
It all comes down to cortisol. Cortisol is secreted by the adrenal glands as a reaction to stress, in conjunction with your sleeping patterns. One of cortisol's main functions is to help the body produce blood sugar from proteins. Excess sugar is then used for fat production.
Cortisol may also play a role in poor eating habits. Recently, researchers exploring eating disorders found that women who secreted higher levels of cortisol while under stress had a much greater tendency to snack on high-fat foods than did women who did not secrete as much cortisol in reaction to the same stressful event.
And there is another reason why stress can make you gain weight. High starch foods, like pasta, potatoes, and bread, stimulate the production of serotonin, that hormone responsible for a happy, relaxed mood. Dairy products contain L-tryptophan, an amino acid that converts to serotonin. So if you find yourself craving those foods, that may be why. They actually help you feel less anxious.
You might also like...