Slimming in a Group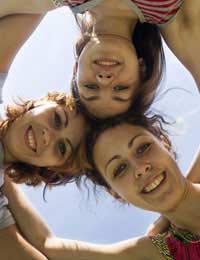 Slimming In A Group.
Trying to lose weight can be very challenging for those trying to slim down and people can try several different methods before they find a suitable way that works for them. This can involve joining a weight loss group (otherwise known as a slimming club) or even finding a few friends that also want to lose weight and doing it together.
Benefits Of Slimming As A Group.
There are plenty of reasons why people may find it easier to lose weight as part of a group.This group is often part of a professionally organised programme of which there are several well known varieties. Joining a group may mean paying a fee each month or when you join up and in some cases you may need to sign a contract of commitment. Although it can be costly joining a group it can be very beneficial as paying some hard earned money can work as a source of motivation.
It can be easier to have other people who understand the challenges that are faced when losing weight and changing your lifestyle and stories and individual experiences can be shared and recipes and hints and tips discussed.It can also provide many new friends and relationships and is a great way of socialising.Another of the important benefits of joining a slimming club is that you may find some similarly like-minded people with whom you can plan an exercise programme with. By joining a gym together or even taking some nice long walks or dance classes for example you will find it more enjoyable and again find the motivation to continue attending the exercise sessions.
Dangers Of Joining A Slimming Club.
There are not many negatives of joining a group to help you lose weight, but there are a small number of people who may find the competitive side of personality becoming more apparent. This can be dangerous as the effect of losing weight each week may spur the person on to try even harder to lose weight so that they can prove to the rest of the group that they are being the most successful. This can involve the person taking more drastic measures than those planned to achieve a greater amount of weight loss.
Some people may also find the financial commitment a bit too difficult and may struggle to pay the fees. This is especially true also if the slimming club programme involves having to buy special foods that are permitted on the plan. These can be expensive, particularly if the whole family is trying to lose weight. It is important that you try and find recipes that you can make at home using fresh produce for your meals as opposed to relying solely on the ready-made meals and food products that are available.
Help, Advice And Education.
One of the greatest benefits of joining a slimming group is the wealth of information and advice the group and group leaders can offer. Not only will you be more aware of the relationships between food and health but you will probably also find out new ways of preparing food and trying new recipes and ingredients.
Most members of the slimming group will have many handy hints and tips that can discourage snacking and negative attitudes towards food and embrace a healthy eating plan that you can adopt for life; you will be able to share your views and experiences also.
Slimming groups can offer a great way of finding a weight loss programme to suit your needs and the motivation that can be gained from other people will usually be a real help towards achieving your goal.Find out more about your local slimming groups by searching on the Internet, looking in your local telephone book or alternatively speak to your nearest library or even your GP about the services and groups available in your region.
You might also like...