Becoming Your Own Personal Trainer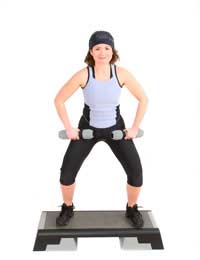 Flow is the state of being completely absorbed in the performance and action of your sport. All your attention is focused either on the skills or routine being performed or on the input from your senses relevant to the sport. You are fully focused of the activities being performed, and are not at all self -conscious. You are not evaluating the quality of your own actions, neither are you concerned with distractions such as results, judges, audiences or other people's expectations while you are performing. While your energies are flowing you are not making any conscious decisions or reasoning, you are trusting your body to follow its training. You are in complete control of actions and reactions.
Discovering Your Optimum Stress Level
Where stress is low, you may find that your performance is low because you become bored, lack focus and lack motivation. If this state persists for a long time, then your sport will become tedious, and you will be easily distracted. Where stress levels are too high, your performance will also suffer.
Physical Symptoms of Stress Include:
Increase in heart rate
Increase in sweating, and a cooler skin as this combines with a reduction in the blood flow to your skin.
'Butterflies' in your stomach
Rapid breathing
Tense muscles
Dry mouth
A desire to urinate
Mental Symptoms of Stress Include:
Worry
Confusion, inability to concentrate or difficulty making decisions
Feeling ill or odd
Feeling out of control or overwhelmed
Behavioural Symptoms of Stress Include:
Talking rapidly
Nervous mannerisms: nail biting, foot tapping, increased blinking, twitching, pacing
Scowling
Yawning
There is a middle zone, at a moderate level of stress, where you will be at your peak performance. If you can keep yourself within this zone, then you will be sufficiently aroused, while not being over-stressed and unhappy. This middle zone of optimum performance is in a different place for all athletes so you have to be prepared to experiment to find your own. How will you know when you're there? Keeping a training log will help. Monitoring your performance will give you a good indication of when you have reached your peak levels. But apart from that, as you probably know already there's a certain feeling that goes along with it; every athlete instinctively knows when they're performing at their best, and when you get that feeling, that's when you're in the zone.
Avoiding Burn Out
Burn-out will normally occur slowly, over a long period of time. It may express itself physically or mentally. Symptoms of burn-out are shown below:
Physical Burn-Out
Feelings of intense fatigue
Vulnerability to viral infection
Immune breakdown
Mental Burn-Out
Feeling of lack of control over commitments
An incorrect belief that you are accomplishing less
A growing tendency to think negatively
Loss of a sense of purpose and energy
You can avoid physical burnout by keeping the sport fun: intense, difficult training sessions that significantly improve technique should be mixed with lighter, enjoyable sessions that use new skills to good advantage. A relatively slow build-up from off-seasons can be adopted so that your body is not put under excessive stress. You should respect feelings of intense physical fatigue and rest appropriately.
Similarly, you can avoid mental burnout by ensuring that your sport remains fun: there is a limit to your mental energy and you should respect that too. As you get better at your sport, pace yourself accordingly, don't increase your goals unrealistically. Also, remember not to over commit - otherwise you will be in severe danger of burning out as you become unhappy with your situation. Involvement in sport must be fun, otherwise there is no point in doing it.
If you feel that you are in danger of burning out, or are not enjoying your sport, the following points can help you correct the situation:
Re-evaluate your goals and prioritise them
Evaluate the demands placed on you and see how they fit in with your goals
Identify your ability to comfortably meet these demands.
If you are over-involved, reduce the commitments that are excessive
If people demand too much emotional energy, become more unapproachable and less sympathetic. Involve other people in a supportive role. You owe it to yourself to avoid being bled dry emotionally and physically
Learn stress management skills
Examine other areas in your life which are generating stress, such as work or family, and try to solve problems and reduce the stress
Get the support of your friends and family in reducing stress
Ensure that you are following a healthy lifestyle:
Get adequate sleep and rest to maintain your energy levels
Ensure that you are eating a healthy, balanced diet - bad diet can make you ill or feel bad.
Get adequate regular aerobic exercise
Limit your caffeine and alcohol intake
Perhaps develop alternative activities such as a relaxing hobby to take your mind off problems
You're only human: remember that you have a right to pleasure and a right to relaxation
You might also like...