Keeping Your Spine Flexible and Healthy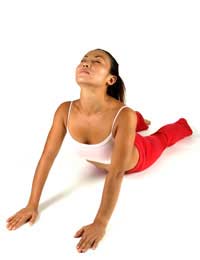 We have all been told since childhood to "stand up straight". But it's easy to get into bad habits. Good posture means the spine is in a "neutral" position - not too rounded forward and not arched back too far. But what is good posture?
When Standing:
When standing for a long period, rest one foot on a low stool to relieve pressure on your lower back.
Switch the foot you're resting on the stool every five to 15 minutes.
Keep your ears, shoulders and hips in a straight line, with your head up and your stomach pulled in.
When Sitting:
Sit in chairs with straight backs or low-back support.
Keep your knees a little higher than your hips. Adjust the seat or use a low stool to keep your feet on.
While driving, sit straight and move the seat forward.
When Lifting:
When lifting anything, always bend your knees so you hoist the load with your sturdy thigh muscles, not your vulnerable back.
For support and balance, keep your feet apart and lined up under your shoulders.
Don't twist, bend forward or reach while lifting. Carry heavy objects close to your body.
When Sleeping:
Experts advise sleeping on your side with your knees drawn up, perhaps with a pillow between them.
If you are sleeping on your back, keep your head low and place a small pillow or rolled-up towel under your knees.
If you sleep on your stomach and it stresses your lower back, place a pillow under your stomach to help protect your back.
Spinal flexibility is very important to help keep your vertebrae apart so that the discs do not become compressed. The discs require nourishment and they can only get it if the vertebrae are kept apart so that they can "breathe" and blood circulation is flowing freely. Flexibility comes before strength. Simple exercises performed regularly can keep your spine flexible and help you maintain a healthy back. These exercises will also decompress your spine and increase the circulation of spinal fluid, which helps to ease tension in the surrounding muscles.
Lower Spine Flex: Sit cross-legged. Hold on to shin of each leg. Flex your navel (and hips) forward as you inhale and back as you exhale, setting a steady pace. Inhale slowly as you sit up straight, and then exhale slowly. Breathe only through your nose.
Torso Twists: Again sit cross-legged. Put your hands on your shoulders, thumbs in back and other fingers in front, arms up parallel to the floor. Begin turning your upper body and head from side to side. Your head should moves only with the body and no further. Inhale as you swing to the left, exhale to the right. Then come to centre and take a deep inhale and exhale before lowering your arms. Repeat 6-10 times.
Spine Strengthener: Lie on your stomach with your forehead on the floor. Keep your fingertips at shoulder level and your heels together. Inhale and raise your head and then your chest off the floor. Keep your pelvic girdle on the floor and hold the position while breathing for one minute. Exhale and lower your upper body to the floor very slowly. Repeat 6-10 times.
Side Bender: Stretch as far as possible to one side as you exhale, then inhale and return to the middle. Repeat on the other side. It is important not to lean forward while stretching to the sides. All the movements must take place from the spine. Repeat 6-10 times.
Forward Hip Bend: Arch your back and maintain the arch, breathing normally. Hold the position until you can feel the stretch in your buttocks and hamstrings. Breathe evenly and hold for one minute. Straighten your back then repeat 6-10 times.
You might also like...