How to Eat When You're Working Out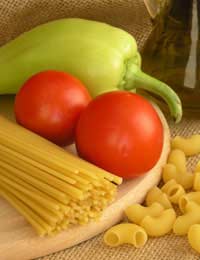 You may have heard conflicting stories about whether to eat before or after a workout, or even whether to eat at all. While your buddy at the gym may be training on an empty stomach to reduce body fat, you can rest assured as you eat your pre-workout meal that you're on the right path to attaining and maintaining a healthy body. The key is knowing when, and what to eat to suit your particular regime, so here are a few pointers to help you.
Powering up with Energy Foods
It is a common myth that eating before a workout is self-defeating, especially if you are working out to build muscles and maintain low body fat. Experts agree that training on an empty stomach is a poor strategy to use in resistance exercise programs. The reason is you actually burn calories more efficiently by eating before you power up. Glycogen is the fuel used to fire muscle, if it's not available when you train, your body will turn to other sources in an attempt to find fuel. It will ultimately draw on muscle tissue as a source of energy. This doesn't mean you have to start loading carbohydrates. Consuming simple sugars right before training can reduce the amount of glycogen used during exercise.
Balancing your Pre-Exercise MealYou should balance your pre-exercise meal so that it contains about 50 carbohydrates, 5 to 10 grams of protein, and total approximately 250 calories. A mixture of simple and complex carbohydrates is best before working out, with a little more emphasis on having fast-burning simple carbohydrates available quickly for energy. You should, eat between 90 minutes and two hours before you work out. Don't eat any closer to your workout else you'll not be in peak condition and will probably suffering cramps while you're training. Don't forget to keep yourself hydrated. Drink 16 ounces (2 cups) of beverage such as water, juice, or a sports drink two hours prior to exercise and then another 6 to 8 ounces immediately before your workout. Drink 5 to 10 ounces every 15 minutes during exercise.
Powering Down
The post-exercise meal is the most important meal of the day. After a hard work out you will have literally 'torn down' your muscle. They are not torn in the sense of an injury but contain hundreds of microscopic tears, so they need optimum care to rebuild themselves. The role of post-exercise nutrition is to replenish glycogen stores which helps to give muscular repair and rebuilding a boost, and quickly restore immune system function (which is compromised in high intensity workouts, particularly heavy weight training). To maximize muscle glycogen stores, carbohydrate rich foods should be consumed immediately after exercising. Timing is critical to restore muscle glycogen.
Rehydrate Straight Away
Don't forget the water. Your body is 80% water. Water is used in the formation of and burning of adenosine triphosphate (ATP) and also used to help keep your internal temperature down so you lose it through sweat and burning tissue. Don't underestimate the importance of re-hydrating after working out. Dehydration can actually cost you 20% of your strength. You need 4ml of water to store every gram of carbohydrates as glycogen. You also need water to replenish what you lost when you trained. It's important to spread your water out evenly, as taking in excessive amounts at once can actually work against you, raising blood pressure and causing your body to release Anti-Diuretic Hormone. If this happens you'll be releasing more water that you're taking in.
A Healthy Meal
Once you've quenched your thirst you're ready to power down with a healthy meal. If you have an intense weight training regime, you'll need 1-2 carbohydrate grams and a 0.5-1 gram of protein per kilogram of bodyweight after working out. This will vary slightly depending on your body weight and the duration of your workout. Thirty minutes after the workout is the best time to. If you can't manage to eat that soon, within two hours is all right if you can't manage sooner. After that glycogen stores take far longer to adequately restore. Remember to use simple carbohydrates; they are quicker to stimulate production of insulin than complex carbs, which helps drives digested protein into the repairing muscles.
Foods for Powering Up
milk
oatmeal cookies
cereal bars
pasta
whole wheat bread
potatoes
boiled rice
eggs
lentils
Foods for Powering Down
Baked potato
chicken breast
tuna
sweet potato
carrots
cauliflower
bean soup
whole wheat bread
dried fruit
oranges
grapefruit
pumpkin seeds
You might also like...