How to Lose Belly Fat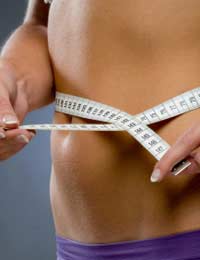 Just look on the Internet and you will see literally thousands of ads that promise to teach you the secrets to losing belly fat. But losing those extra abdominal pounds is not really that difficult, and learning how to shift them is not really rocket science. You just have to know how.
The vast majority of British women are classified as being a pear shape, meaning that they put on weight most often in their bums and thighs. But many of us are apple-shaped, with extra fat around our middles. And men tend to hold most poundage around their waists, commonly known as a beer gut – not a very attractive word!
While having a big tum may be seen as unsightly, there are other more burning reasons why you might want to consider losing yours. New research has proven that people with larger waists may have a big influence on whether they are hospitalised with heart failure, or die of the condition. And having too much weight around waist is known not only as a marker for heart disease, but also for Type 2 diabetes - and can also be a contributor to colon cancer.
The Good News
The good news is that when people lost weight, 99 percent of them will lose it first in their tummy region before anywhere else. That's because visceral fat is easier to shift than the subcutaneous kind. And the more belly fat you have, the quicker you will lose it.
While most of us will not be able to gain the six-pack of our dreams, flatter abs should be a reality, with a little careful eating - and a lot of hard work. Abdominal fat can be a stubborn fat to shift, and can require a lot of work.
So follow these top tips, and soon a washboard stomach could be yours...
7 Top Steps to Losing the Fat
Here are the top 7 steps required to help you lose the belly bulge, improve your health, and make your clothes fit better and look nicer:
1. Stop eating junk food. Look around your house. Do your kitchen cupboards contain more biscuits, chocolate, crisps and Fruit Pastilles than anything else? Throw them out!
2. Cut down on the booze. Ever heard of the term "beer belly"? Well guys, there's a reason for that.
3. Cut out evening snacks. If you have a big old snack right before you go to bed, there is little physical activity going on to help you metabolise it.
4. Eat more wholegrains and fat-burning foods such as green beans, apples, carrots and cucumbers. High-fibre foods are a good way to get your system going. Swap white bread for wholemeal bread, white rice for brown rice, and egg pasta for wholemeal pasta. It really will make a difference. Knowing the difference between good and bad carbs is important.
5. Consume no more than 1,600 calories per day. That's the amount the average person will need to lose weight. But don't take our word for it. You should always consult your doctor before starting any diet program, and this is no exception. Find out what the right calorie intake should be for you – from a professional
6. Exercise regularly. Exercising is important not only to give you a smaller tummy, but also to increase your heart rate, lower your blood pressure, improve your mood and make you feel better overall. Studies have shown that cardio exercises can do more to burn more fat overall, including in the tummy area, than anything else.
7. Learn about exercises that flatten the stomach - and do them. Those include exercises that concentrate on the upper abs, the lower abs and the obliques, which are also known as love handles. If you have never exercised before, ask your GP for help in how to do these exercises properly.
Remember, it is impossible to drop the pounds from just one part of your body. Losing belly fat will require a proper diet, as well as a proper exercise plan that includes plenty of cardio work-outs along with a specialised plan to get rid of abdominal fat.
If you have extra fat around your middle, don't despair. You can get rid of it - and there is no time like the present. Do it today!
You might also like...