The Juice About Tropical Fruit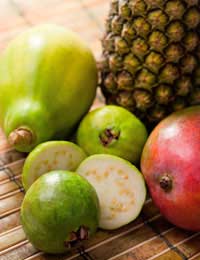 Fun in the sun isn't the only reason to head south for the summer. You can enjoy many ways to enjoy fruitful health. Proponents of living food claim that fruit is descended from the original Garden of Eden diet and therefore can be prescribed for healing. Today, we are more concerned than ever with issues of health, so in addition to local fruits, tropical fruits can be added to our list of natural remedies. Hundreds of years of usage and current research support their therapeutic actions. Most tropical fruits contain proteolytic enzymes-digestive enzymes that break down proteins. These include; trypsin, chymotrypsin, bromelain, papain and fungal proteases. Trypsin and chymotrypsin occur naturally in smaller amounts while bromelain and papain are more abundant. The following is a list of tropical fruit with reputable health benefits.
Pineapple
The pineapple has served as both a food and a symbol of hospitality throughout the human history of the Americas. Perhaps the best known of the proteolytic enzymes is bromelain. Bromelain is not a single compound, but a mixture of different enzymes including protease, peroxidase, acid phosphatase, as well as protease inhibitors and organically bound calcium. At least eight proteolytically active components have been identified. Because of its tolerance of a wide pH range, bromelain is active in the relatively low pH of the stomach as well as the intestines. It appears a great deal of its physiological activity cannot be accounted for by its proteolytic fraction and that its beneficial effects are due to the combined activity of all its components.
Papaya
From the fruit of the papaya we obtain papain. Papain is an enzyme that is extracted from the milky juice of the unripe papaya fruit. The enzyme has similar properties to some protein-digesting enzymes found in the stomachs of animals. Papain is used to clot milk and to keep beer clear. It is used in pet food to increase palatability and reduce viscosity, and as a detergent to remove stains. More importantly it has several medical uses, including preventing cornea scar malformation, treatment of jellyfish and insect stings, treating oedemas, inflammatory processes and in the acceleration of wound healing. More recently new use has been found as an ingredient in cleansing fluids for soft contact lenses. In very low concentrations, papain is also used in indigestion remedies. Chymopapain, another enzyme derived from the same source, is used in medicine to dissolve discs in lumbar spine injuries. Papaya's natural digestive enzymes can provide natural relief for indigestion.
Mangos
More mangos are eaten all over the world than any other fruit.Beyond being delicious and rich in vitamins, minerals and anti-oxidants, mangos contain an enzyme with stomach soothing properties similar to papain found in papayas. Research has shown that dietary fibre has a protective effect against degenerative diseases, especially with regards to the heart; may help prevent certain types of cancer, as well as lowering blood cholesterol levels. An average sized mango can contain up to 40% of your daily fibre requirement. Mangos are an excellent source of Vitamins A and C, as well as a good source of Potassium and contain beta-carotene. Mangos also contain vermifuge and anti-parasitic constituents.
Noni Fruit
The whole juice of the noni plant has been shown particularly useful for its ability to treat painful joint conditions and to resolve skin inflammations. Many people drink Noni fruit extracts in juice form for hypertension, painful menstruation, arthritis, gastric ulcers, diabetes, and depression. Recent studies suggest that its anticancer activity should also be considered. Studies and surveys combined support the ability of Noni plant to act as an immuno-stimulant, inhibit the growth of certain tumours, enhance and normalize cellular function and boost tissue regeneration. It is considered a powerful blood purifier and contributor to overall homeostasis.
Guava
A tropical fruit believed to have originated from Central America, guava is a good source of lycopene, beta-carotene, and vitamin C, and is an excellent source of soluble fibre. Current research suggests that consumption of guava fruit may reduce LDL (the 'bad') serum cholesterol. Another health benefit attributed to guava is its anti-microbial potential in combating certain bacteria such as Staphylococcus aureus and beta-streptococcus group A. Guava is also employed as a natural medicine by people who live in the tropics as a treatment for diarrhoea.
You might also like...