Vegetables of The Sea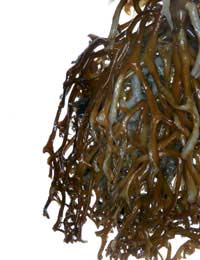 Seaweed is the oldest family of plants on earth. It is a multi-cellular form of algae of which there are three main types; red, green and brown. As a staple dietary item, seaweed has been used in Japan and China for over a thousand years. It accounts for some 10% of the Japanese diet. Here in the West, seaweed is largely considered as a health food of which kelp is the most familiar and is often taken as a dietary supplement. However there are a variety of available sea vegetables, which make interesting and tasty additions to meals and are very high in nutrients. Here are some of them:
Dulse (Palmaria palmata)
This very common red seaweed. It can be used like spinach or any other leafy vegetable. It has a nutty flavour, and can be toasted over a low flame and eaten like chips or sautéed in oil and eaten as a condiment. It acts as a thicker in sauces. It can be added it to soups the last 10 minutes of cooking and even baked into bread. It is high in iron, potassium, phosphorus, magnesium and vitamins A, B6, B12, E, and C. There is some seasonal variation; in the spring it is higher in beta carotene; in autumn it is a good source of vitamin C. Dulse is twenty-two percent protein that is easily digestible.
Nori (Porphyra tenera)
Its colour ranges from dark green or brown seaweed and it has very tender fibres making it paper-thin. It comes in sheets and can be toasted over a low flame. Typically it is used to make sushi or nori rolls. It can be added to soups, stews, and casseroles or crumpled over salads, put into dressings, spreads or desserts. It contains calcium, iron, phosphorus, vitamins E, A and C, B vitamins and has twenty-eight percent protein.
Hijiki (Hizikia fusiforme)
This is a high protein seaweed loaded with well balanced minerals. It needs to be soaked for five to fifteen minutes, during which time it will expand to twice its original volume. Hijiki has a very strong flavour, so only a little should be used. It is suitable for chopping and cooking with grains, soups, breads, stuffing, salads, curries, tofu and vegetable dishes. Can be sautéed in oil to will enhance the digestion of oil-soluble vitamins and cut dilute its fishy taste. It contains calcium, iron, vitamins A, B1 and B12.
Kombu and Kelp (Laminaria species)
Kombu is a member of the kelp family. The kelps are a large brown seaweed and it requires cooking for one to two hours covered with water until it softens, which makes it excellent for soups and stocks. Kombu is used in China and Japan for thyroid conditions and high blood pressure. It contains potassium, iodine, calcium, magnesium, iron, niacin, vitamins A, B2 and C; also it contains alginic acid that absorbs toxic metallic elements out of the body.
Wakame (Undaria pinnatifida)
This is a green seaweed. It needs to be soaked for three to four minutes and then cooked for at least forty-five minutes. There is a tough midrib that can be trimmed out and used in longer cooking. This can be used like a green leafy vegetable in soups, stews, baked vegetable and stir-fry dishes, or in with grains. It can be added to sandwiches or into spreads. It contains calcium, iron, phosphorus, vitamins E, A and C, and B vitamins; also it is twenty-eight percent protein.
You might also like...