What's the Fuss About Acai Berries?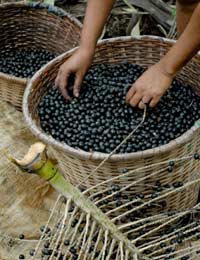 Can a magical "wonderberry" grown deep inside the South and central American rainforests help increase your libido, cleanse your colon and lose unwanted pounds all at the same time?
The marketers behind numerous acai berry scams seem to think so, but the only thing that might be lighter after you purchase this "unusual" berry would be your wallet.
Acai (pronounced ah-sigh-ee) berries are fruits grown in the rainforests of Brazil and other countries, which reportedly taste like a cross between chocolate and fresh berries, so most people find them pleasant to the palate. Although the seed is not edible, the pulp is.
These small berries are also known as superfoods, because they contain a number of things we humans believe are necessary to maintain good health. This includes fibre, omega fatty acids and antioxidants, which keep us looking and feeling good.
In recent years, however, acai berries have gained a reputation for having special properties, thus being magically transformed into the most sought-after fruit around. They have been touted as being able to do everything from promote extreme weight loss to cure Alzheimer's disease to prevent heart attacks.
But do they really accomplish all that, or is this just another scam?
Why So Special?
While Acai berries do contain antioxidants, studies have shown that they do not contain significantly more than some other fruits. Juice made from acai berries contains fewer antioxidants than juice from black cherry or blueberry juice, for example.
But when a well-known American heart surgeon mentioned the berry in 2008 on the popular Oprah Winfrey show, the humble little berry from Brazil exploded into the public domain. Dr. Mehmet Oz simply talked about foods rich in antioxidants, which may help in the fight against ageing, including broccoli, blueberries and - acai berries.
As a result of his discussion, thousands of marketers, both in the United States and abroad, rushed to sell acai berries to unsuspecting consumers, with exaggerated claims about both its weight-loss properties and its supposed endorsement by both Oprah and Dr. Oz, from Columbia University in New York.
Since then, both Oprah and Dr. Mehmet have taken more than 40 companies selling acai berry-based products with their names on them to court, saying they discussed the product but never gave it their personal seal of approval. Dr. Mehmet has even gone so far to say that the companies are "duping the public", and doing a "gross disservice" to public health.
Why So Expensive?
Because no fresh berry lasts long in the hold of an aeroplane or on the back of a lorry, it's not surprising that acai berries are difficult to export. They go rancid quickly, and some say once they begin to age they lose some of their potency as well.
So clever marketers came up with a plan: why not freeze-dry these tiny little fruits and ground them up into a powder, then have them sent abroad where they can be manufactured into bars, shakes and supplements? Or why not freeze them, so consumers can add them to their own shakes and even homemade pancake batter?
Best of all, why not then charge an arm and a leg for them – after all, it takes time and money to process them properly, doesn't it?
Special Warning
If you want to try acai berries for yourself, they probably will not do your body any harm. Then again, there is a good chance they will not do you any good either.
If you want to try a "free trial" of these tantalising berries, however, beware. Use only a prepaid credit card and watch out for huge handling fees – one customer reported that her "free trial" cost her about £120, and complaints about other online acai berry scams are numerous.
You might also like...