Adopting a Healthy Attitude Towards Food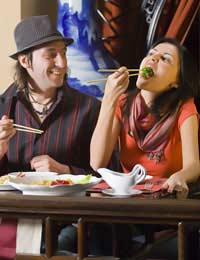 For those who are or have ever suffered from an eating disorder, attitudes towards food can be very important and at times extremely negative and misplaced. It is imperative for these people and those who are beginning to have an unhealthy relationship with food to understand the role it plays in life and how to achieve a happy association and a positive attitude towards it.
Education
Education is one of the key issues surrounding this subject. It is vital that we educate children about the role food plays in our lives. In a society of obese people and an increasing rate of those with eating disorders, now has never been a better time to start teaching our children about food.As parents and carers we have a responsibility to protect our children's health; this can be achieved using a variety of techniques.
From a young age, encourage your children to be proactive and creative in the kitchen. This way they will be more likely to try new foods, ask questions pertaining to food and maintain a healthy intake from a variety of the food groups.Make sauces, soups and stews from scratch allowing them to experiment with different types of vegetables. Even if they don't like the taste, they can be easily hidden using blenders and or by mashing them.
Being a good role model will also help children adopt a healthy attitude towards food, diet and body image. Parents who have their own issues surrounding food will inadvertently pass these on to their children.
Using Food as a Reward
In generations past when food was not as plentiful as now, and treats were exactly that – occasional treats for good behaviour, not a regular part of life, it was more acceptable to reward children with confectionary and sweet treats. Today, with sweets, crisps and puddings being easily accessible and for many, a part of their daily calorific intake, it is not recommended or recognised to introduce sweets as part of a reward scheme. This will instil a 'comfort eating' scenario in their young minds which they may take with them into adulthood. They will learn that things when they have done things well or performed correctly are conducive with sweet things and will often congratulate themselves or justify eating these types of food as a way of making themselves feel better about themselves.
These types of issues will all aid the child into developing the wrong perception of food. They should learn that food is consumed to live, not that the purpose in life is to spend it eating constantly or worrying about weight gain.
Body Image
Never has this emotive subject been so important. It is vital that children know the difference between a healthy body and a skinny model image. These images are almost always amended using computer technology and are not a true representation of the person's body. Children should always be praised on their appearance and not called names by anyone.Encourage them to keep fit and give lots of praise for eating healthily and exercising, but do not overly encourage as it could lead to an obsession developing.There is a very fine line concerning these matters and parents must make sure they are achieving an even balance of behaviours.
Adopting a healthy attitude towards food is something we could all benefit from. Knowing the correlation between food groups, types of food and their role in health is important to make sure we understand that food is fuel and that it does not become a focal point in our lives.
You might also like...