Healthy Oils and Dressings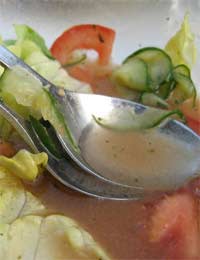 Eating salad is a great way to lose weight, but you might want to work on some ideas to jazz them up before you lose interest in them. Of course, the first thing that comes to mind is a good, flavourful salad dressing, but if you're not careful you can pile on the calories you've been trying to cut back with the dressing alone.
Fats and oils come in several types, they are either saturated or unsaturated. Unsaturated fats are either polyunsaturated or monounsaturated. No single type of dressing is made purely of one fat; they are all comprised of a combination of the three in varying ratios. The percentage of fats in each oil or dressing is based on the seed, nut or fruit that the oil is derived from.
Saturated fats will increase your levels of cholesterol. They are usually derived from animal sources though there are some non-animal sources such as palm oil and coconut oil. Oils such as margarine have been chemically transformed so that they retain solidity at room temperature. The problem is that this chemical procedure creates trans fatty acids, which are more unhealthy than any other type of fat and cause heart disease.
Monounsaturated fats actually lower you levels of bad cholesterol without reducing the good cholesterol. The most common monounsaturated oils are peanut oil and olive oil. Polyunsaturated fats consists of omega-3 and omega-6 essential fatty acids. These area also healthier and include flaxseed oil, canola oil and walnut oil.
Choosing the Right Oil
For salad dressings, always use light oils such as safflower or grapeseed. Because of its strong flavour, extra virgin olive oil can sometimes overpower your herbs and seasonings or the flavour of your salad itself.
Make Your Own Herb Oil
Gently heat a quantity of olive oil and add rosemary, oregano and garlic. Take the pan from the heat, cover it and leave it to cool. Blend the oils and seasoning for a few minutes with an electric blender than strain into a bottle. Cork the bottle and let it stand- out of direct sunlight- for a few days to let the flavours enrich. You can heat up the taste by adding a dash of chilli powder.
Going Light on the Dressings
Forget the mayonnaise, that is far to fat laden for a calorie conscious salad fan. But that doesn't mean you can't make some really delicious creamy salad dressings. You can replace mayo with low fat, plain yoghurt or fat free sour cream. Here's a simple recipe to get your mouth watering.
125ml low-fat plain yoghurt
2 tbsp smooth honey
½ tsp grated orange rind
2 tbsp cranberry juice

You might also like...