Hidden Calories in Drinks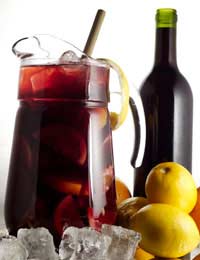 You may be getting plenty of exercise, watching watch you eat and counting those calories carefully. But did you know that more than twenty percent of your daily calories could be coming from what you drink?
Tips to Making Healthier Beverage Choices:
Avoid cans of fizzy drinks, they are full of empty calories. An average can of soda contains nine teaspoons of sugar! Diet drinks are also calorie-free, but concerns still exist about the health implications of artificial sweeteners, so drink them at your own discretion.
Opt for low-fat milk; this alone can save you several hundred calories each day. If you drink 1 percent, 1/2 percent, or skimmed milk, you will still get the nutrients your body needs without the extra calories and fat. You could also switch to soymilk, not only is it low in calories, it also has a host of other health benefits such as fighting cancer, heart disease, menopausal symptoms and osteoporosis.
Choose fruit and vegetable juices carefully. Check the labels. Unless the label states that the juice contains pure or real fruit or vegetable juice then it may actually contain less than 10 percent real juice and up to seven teaspoons of sugar. 100 percent fruit juice is the healthiest option.
Watch out for those energy drinks. Although they top up your electrolytes and help you stay hydrated, they also contain a lot of calories.
Limit your alcohol intake. The average glass of wine has about 100 calories and a 12 oz. beer contains about 150 calories. Mixed drinks can have as many as 300 calories and frozen drinks such as daiquiris can have 500 or more calories.
Choose water! It's the healthiest beverage of all. In general, 80 percent of a person's liquid calories should come from water depending on their height, weight, and where they live. That means the average adult should drink between 4 and 6 glasses of water each day. If you want to make your tap water a little more interesting, keep some wedges of oranges, lemons and limes on hand and squeeze one into you glass. Not only will it spritz up the flavour of your water, the extra zing will leave you feeling energized.
Calories in Some of Your Favourite Drinks
1 Pint of Cider, Dry = 202 kcal
1 Pint of Beer, Bitter, Draught = 180 kcal
1 Pint of Guiness, Stout = 125 kcal
1 Pint of Lager = 163 kcal
1 Can of Coke, Coca Cola = 139 kcal
1 Glass of Orange juice, pure, Tesco = 92 kcal
1 Glass of White wine, medium = 87 kcal
1 Glass of Tonic Water = 83 kcal
1 Glass of Red Wine = 80 kcal
1 Glass of White Wine, Dry = 77 kcal
1 Shot of Vodka = 52 kcal
1 Sachet of High Lights Chocolate Drink, Cadbury's = 36 kcal
1 Cup of Coffee, Infusion, Average With Semi-Skimmed Milk = 14 kcal
1 Cup of Tea, Made With Water, With Semi-Skimmed Milk = 14 kcal
1 Mug of Coffee, Black = 5 kcal

SAFE SLIMMING IS FOR SALE. This website is for sale [more info].

You might also like...