Reducing Fat and Building Muscle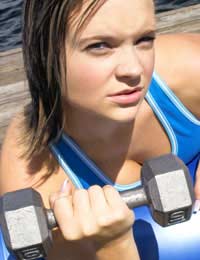 Fat and Muscle
Our bodies use fat for energy storage. Fat consists of molecules called triglycerides. Three chains of carbon and hydrogen, connected by a glycerol molecule at one end, provides your energy, and also, if you're not careful, your excess weight. Whenever you eat more than you burn, your body turns the excess calories into fat. Similarly, when you eat fewer calories than you need, your body draws the energy it needs from the fat cells. Most diets use this basic principle of metabolism to reduce fat.
Muscle cells are the body's machines. Individual cells group together in bundles to become longer and stronger muscles. They use the running to thinking. A lean muscle has little fat because it is used regularly. A fatty muscle is on that it under used.
Building Muscle
There are two types of muscle building workouts that will either allow you to gain muscle mass or tone your existing muscle. The goal of a low rep, high weight muscle building workout is to increase muscle mass, or pump up the muscle to its greatest volume. Lifting heavy weights causes the muscle fibres to swell and you will notice a significant increase in the mass of muscle under your skin. The goal of high rep, low weight muscle building workouts is to tone the muscle and make it stronger without a significant noticeable change in mass.
If you're just beginning a new muscle building work out, don't expect results too quickly. If your body is lean to begin with, then you will notice results sooner, but if you have a high ration of fat to lean muscle then you will first have to burn off some fat. The best way to do this is to do some aerobic cardiovascular exercises along side your muscle building workout. Eating a low fat diet composed of lean proteins and low carbohydrates is also helpful in building muscle and reducing fat.
One of the benefits of muscle building workouts, aside from larger and more toned muscles, is an increase in your body's ability to burn fat. Even when you are not exercising, your muscles continue to burn fat more effectively when you perform a regular fitness program that includes muscle building workouts. Aerobic exercise strengthens your heart and improves the function of the cardiovascular system which is important in delivering blood to your muscles. But to continuously burn fat you need a combination of both aerobic training and muscle building.
You are born with all the muscle tissue that you are ever going to have, so don't be fooled by anyone who tells you that weight training is going to help you build more tissue. What you are trying to change through weight training and muscle building workouts is the appearance of the muscle tissue, bulking it up and making the muscle fibres larger and more defined.
You might also like...