The Zone Diet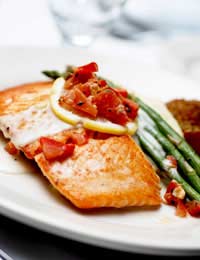 The Zone Diet was developed by Barry Sears, a former researcher in biotechnology at the Massachusetts Institute of Technology. It is a calorie-restricted diet that provides adequate protein, moderate levels of carbohydrates, essential fats, and micronutrients spread through three meals and two snacks that approximately maintain the protein-to-carbohydrate ratio throughout the day.
Finding the Zone
The Zone Diet works on the theory that excess insulin, a hormone that helps you to control your blood sugar levels, makes and keeps you fat. By closely regulating your blood sugar levels and therefore keeping your levels of insulin in a tight 'zone', the body burns fat more efficiently so that you lose weight. To control blood sugar levels and consequently insulin levels, you need to get the perfect balance of carbohydrates, proteins and fats in every meal. Achieving this perfect balance effectively means following a low-carbohydrate, high-protein diet that includes moderate amounts of fat. The other component of the Zone dietary program is supplementation with high-dose fish oil.
Getting into the Zone
So how do you get into the zone, and more importantly, how do you stay there?It's a little more complicated than it sounds. The idea is that to reach 'The Zone', every meal and snack should provide 40 percent of calories from carbohydrate, 30 per cent from protein and 30 per cent from fat. To make it easier to manage, Sears developed 'Zone Food Blocks'. Each block contains a standardised amount of carbohydrate, protein or fat. To lose weight, a certain number of blocks are allocated for each meal and snack. The number of Zone Food Blocks you should have each day is calculated according to your weight, height and waist and hip circumferences. Generally, the bigger you are, the more blocks you are allowed.
In simple terms, the Zone diet involves cutting out most carbohydrates such as breakfast cereals, rice, potatoes, pasta, noodles, bread, bagels, muffins, crisps, pastries, pies, chocolate, sweets, sugar and preserves, because these have the greatest effect on your blood sugar levels and therefore insulin levels. Most fruit and vegetables are allowed. Low-fat protein-rich foods such as skinless chicken, turkey and fish should be eaten with every meal. Meanwhile, eating fewer foods that contain saturated fat and choosing foods that are rich in monounsaturated fat, such as olive oil, avocado and nuts, is highly recommended.
Criticism of the Zone diet
Most critics of the Zone diet point out that Sears places too much emphasis on the impact that carbohydrates and protein have on insulin levels. It is true that carbohydrates, when eaten in the absence of fat and protein, produce a marked increase in the release of insulin. It is also true that, protein, when eaten in the absence of carbohydrates, causes an increase in glucagon levels with only a small increase in insulin. However, the Zone Diet is a mixed diet, meaning that carbohydrates, protein and fat are eaten simultaneously. As a result, it cannot be assumed that insulin levels will not increase, despite the high intake of protein and low intake of carbohydrate.
You might also like...