The South Beach Diet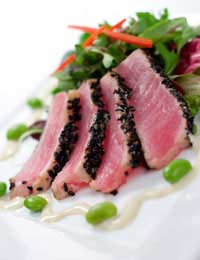 The South Beach Diet was created by Dr. Arthur Agatston, a cardiologist based in South Florida. Dr. Agatston developed the diet for his chronically overweight heart patients. Soon, thanks to his patients' results, Dr. Agatston's diet became very popular throughout Miami and has since caught on all over the Western world. Dr. Agatston says decreasing the bad carbs will help you metabolize what you eat more effectively and will also improve insulin resistance, leading to weight loss. The South Beach Diet is not low-carb. Nor is it low-fat. Instead, this diet teaches participants to rely on the right carbohydrates and the right fats.
The South Beach Diet is Divided into Three Different Phases:
Phase One
The first phase lasts for two weeks and is the strictest of the three. It may seem a little daunting if you are used to low fat, high-carb diets. For the first two weeks, you'll totally eliminate fruit, bread, rice, potatoes, pasta, sugar, alcohol, and baked goods from your diet. Some people stay on phase one a little longer if they have to lose a lot of weight but it's not healthy as a long term eating plan. You can eat chicken, turkey, eggs and shell fish during stage one. You can also eat vegetables cheese and nuts. The meal plans include three meals and mid morning and mid afternoon snacks and allow you to eat until you are full. The theory behind stage one is that we crave foods that cause us to store fat, adjusting our diet to phase one foods switches of those cravings and promotes fat metabolism in our bodies.
Phase Two
In phase two you can gradually begin adding foods from the phase one 'foods to avoid' list. You are limited which ones you can choose and the quantity that you eat them. The key is to keep them in moderation and not to let them get out of control as they were before.
Phase Three
Phase 3 is the final and least restrictive Phase of The South Beach Diet. Dr. Agatston says as long as you continue follow some basic guidelines, the diet has become your way of life and you'll continue to maintain your weight.
Possible Weight Loss on the South Beach Diet
The projected weight loss during the initial phase of the diet (which lasts 14 days) is 8-13 pounds, but like all low-carb, high protein diets, a good proportion of this is water loss rather than fat loss.
Phase two, which lasts until you get to your goal weight, promises a weight loss of 1-2 pounds per week. This is the average weight loss recommended by health experts, so weight loss on the South Beach Diet is no faster or slower than most weight loss plans on the market.
The final phase of the diet gives sound advice on long term healthy, balanced eating and if followed, like any healthy eating plan will help maintain good health and weight for life.
You might also like...