What is a Food Diary?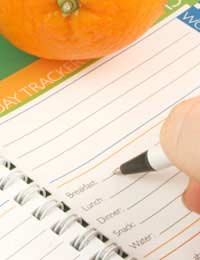 What Is A Food Diary?
Fairly self-explanatory, a food diary is a written log of everything you eat and drink. It is essentially a journal of the dates, times, type and quantity of all dietary intake.Food diaries are often kept by slimmers and those with suspected food intolerances and allergies as a record of what is eaten which can then be looked at, analysed and evaluated to determine where changes can be made in the diet with the aim of making us healthier.
What Are The Advantages Of Keeping A Food Diary?
There are many advantages of keeping a food diary, not just for slimming but also as a way of helping you budget, plan meals and detect any food items that are causing you problems.For those who are slimming however it can prove to be very useful; the benefits can include:
Determining how much you eat in a meal
Finding out if you eat certain types of food at specific times of the dayseeing how much you snack
Finding out if your cravings relate to your menstrual cycle (for females)
Seeing how much food you include in each meal
Finding out where you can cut back and make positive changes
Makes you more conscious in your intake which can motivate you to say no to treats
How To Make It A Success.
There are several things you can do to help make your food diary a success. The first and most important thing is to be totally honest. If you don't write everything down you are fooling no-one but yourself. Make sure you write down all your drinks as well as those few little hot chocolates all add-up; they may be fine as an occasional treat but a twice weekly event can allow those hidden calories to creep up.If you feel your diet is related to emotional issues as many are, it may help to write down how your felt before eating and exactly how you felt immediately after and then half and hour after. This can help you reflect in the future and determine what your emotional triggers are.Write down the time of day when food and drink are taken, this allows you see if there is a pattern to your snacking which in the future, enables you to intervene before the craving is allowed to set.
How Long Should A Food Diary Be Kept For?
The answer to this is different for everyone. Some may feel that they have control of their diet very quickly and may cease the diary after a month whilst others may find it more beneficial to keep the diary at least six months for a few reasons. Firstly it can help find out whether your food habits change with the seasons, but also because it can be beneficial to act as a log to look back on in the future and jot your own progress.For some it can be a permanent journal and a daily record can be documented indefinitely, but there is a danger to this as some slimmers may find that they will always be looking for ways to cut back on their calorie intake which can develop to extremes.
Food diaries can be very useful for people trying to slim but are unsure how they can amend their diet. They can act as a log of information which can be evaluated and positive changes made where necessary.
You might also like...