The Mediterranean Diet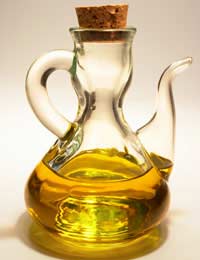 At least 16 countries border the Mediterranean Sea. Diets vary between these countries and also between regions within a country, so there is, strictly speaking, no one single Mediterranean diet. But, the traditional diets from the people living in countries like Greece, and Southern Italy have been studied extensively over the past several years. This is because of the extremely low incidence of chronic diseases and high life-expectancy rates attributed to these populations.
Despite their variety, the Mediterranean diets do have some common characteristics:
high consumption of fruits, vegetables, bread and other cereals, potatoes, beans, nuts and seeds
olive oil is an important monounsaturated fat source
dairy products, fish and poultry are consumed in low to moderate amounts, and little red meat is eaten
eggs are consumed zero to four times a week
wine is consumed in low to moderate amounts
Mediterranean Diet and Health
Although as much as 40% of total daily calories are from fat in the traditional Mediterranean diet, cardiovascular diseases is substantially decreased. This is because olive oil is a monounsaturated fatty acid, and does not raise cholesterol to the same extent as do saturated fats. Olive oil is also a good source of antioxidants. Eating fish a few times per week also benefits the Mediterraneans by increasing the amount of omega-3 fatty acids. Omega 3 fatty acids are oils from flaxseed and fish. Omega-3's are essential fatty acids that our bodies cannot create so must first obtain them from food. The 'omega' number defines which carbon the first double bond occurs in a carbon chain that begins with a methyl group and ends with an acid group. Linolenic acid, the primary omega-3 fatty acid, can be obtained through many fats, oils, nuts, and soybeans. However, while eicosapentaenoic acid (EPA) and docosahexaenoic acid (DHA), which are also from the omega-3 family, can both be created by the body in the presence of linolenic acid, they are best available through breast milk for infants and seafood for adults. Eating red meat sparingly seems to also increase health by lowering cholesterol.
Fresh Fruit and Vegetables
The high content of fresh fruit and vegetables in the Mediterranean diet has been shown to be protective against both heart disease and cancer, because of the antioxidants they contain. Tomatoes are a very popular ingredient in the Mediterranean diet not only in salads but also in sauces. They are not only a major source of antioxidants, particularly lycopene. Research shows that lycopene in tomatoes can be absorbed more efficiently by the body if processed into juice, sauce, paste and ketchup. The chemical form of lycopene found in tomatoes is converted by the temperature changes involved in processing to make it more easily absorbed by the body.
You might also like...