Blood Type Diet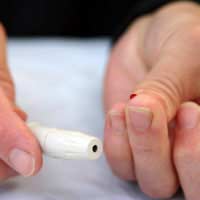 The blood type diet was introduced by Peter J. D'Adamo in 1996 in a book entitled "Eat Right For Your Type; The individualized diet solution to staying healthy, living longer and achieving your ideal weight." This diet program uses the four blood types as a premise for what foods one should eat, what type of exercise one should do, and to what diseases one is susceptible.
What Distinguishes Our Blood Types?
The cells in your body have certain distinct chains of sugar (polysaccharides), which give you a specific blood type; O, A, AB or B. The key to the individualized diet, claims D'Adamo, is matching the correct food to whichever of the four classifications of blood type you fit into.
Type O Blood, D'Adamo tells us you're a "hardy hunter gatherer" who thrives on a carnivorous diet and vigorous exercise and who should avoid foods like oat bran and corn flakes.
Type As, on the other hand, are the "cultivators," who to succeed should avoid meat altogether and focus on complex carbohydrates such as grains and vegetables. These people, D'Adamo says, should release stress with calming activities such as yoga.
Type B, is "the nomad" and lies somewhere between A and O and can enjoy a varied diet of carbohydrates, proteins, vegetables and dairy products. True to its name, this type should engage in moderate, mobile exercise such as walking or swimming. Finally, type AB, "the enigma," is one that doesn't quite seem to fit into the blood type system. This person may have the intolerances of As and B but nevertheless can eat a variety of foods.
The blood type theory is founded on anthropology. D'Adamo reasons that as type O was the first blood type to evolve, then people with this blood type should eat like our hunter-gatherer ancestors. By the same logic, type Bs or the 'nomads' are so categorized because it was around the time of the great global migrations that type B evolved.
Is There Science Behind The Theory?
As for the scientific backing for the theory, D'Adamo relies mainly on his own research and his understanding of blood sugars and their functions.
Because the blood types are made up specific sugars, they have antibodies to foreign sugars. This is where diet comes into play. A chemical reaction occurs between the blood and the foods consumed. These reactions are produced by lectins; groupings of proteins that to attach to different sugars. Our immune cells use them to capture and attack invading bacteria. Lectins occur naturally in food though they can cause us problems. They can attach to the intestinal wall resulting in digestive problems, release hormones from the gut to produce inflammation and they can weaken the immune system itself.
D'Adamo claims that proteins seem to group together differently in people of different blood types and different foods contain different lectins, thus people should match their diet to their blood type in order to avoid creating damaging reactions between the two.
While the origins of blood types may be correct, the descriptions of Bio-Psycho-Types based on the four blood types are unproven, and Dr. D'Adamo does not offer any research or information, which attempts to change this. For instance, animal protein does not have significant lectin activity, so that any recommendations involving animals are based on other ideas. His recommendations for types of exercise other lifestyle recommendations are questionable, and the personality characteristics he describes, are based on a limited and dubious understanding of anthropology and early biochemistry.
Even the lectin theory is simplistic in Dr. D'Adamo's book. Beyond the ABO system of typing are more than 15 sub-types (Rh negative or positive, for example), and many of them are susceptible to lectin clumping. These subcategories are not discussed in the book.
Despite such criticisms by other medical practitioners, the blood type diet has remained relatively popular. It is important to bear in mind, whenever you are considering making adjustments to your diet that a healthy diet is a balanced diet, not one that is concentrated on only one food type or nutritional source.
You might also like...