Apple Cider Vinegar and Weight Loss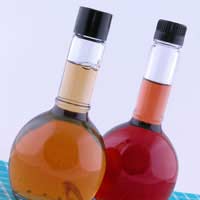 Vinegar has been used for medicinal purposes for centuries. The Babylonians first converted wine into vinegar in 5000 BCE using date palms, grapes, and figs, and believed vinegar had exceptional healing properties. Hippocrates is said to have used vinegar as an antibiotic. Samurai warriors supposedly used a vinegar tonic for strength and power. During the U.S. Civil War, soldiers used vinegar to prevent gastric upset and as a treatment for various ailments including pneumonia and scurvy. It was also used to sterilize wounds during World War I.
Apple Cider Vinegar's Health Benefits
Apple cider vinegar is a powerful detoxifying and purifying agent. It breaks downmucous within the body and in so doing, it improves the health and function of the vital organs of the body, such as the kidneys, bladder and liver. It also prevents excessively alkaline urine. It oxidizes and thins the blood, which is important in preventing high blood pressure. It also promotes digestion, assimilation and elimination, all the while neutralizing any toxic substances that enter the body. Cider vinegar has been found to neutralize any harmful bacteria that may be found in certain foods. When a mixture of cider vinegar and water is taken before a meal it has been known to prevent digestive upsets.
Vinegar as a Cleanser
Vinegar's acetic acid content has recently been put to the test as a cleanser of bacteria in foods. One study shows that 35% white vinegar (1.9% acetic acid) kills E. coli bacteria better than other food cleansers including chlorine added to water.
The Apple Cider Diet
The apple cider diet has been around since the 1970s. Back then proponents claimed that somehow a combination of apple cider, kelp, vitamin B-6, and lecithin promoted the body's metabolism to burning fat faster than it would normally. These days advocates claim that all you need to do to lose weight is to take one, two, or three teaspoons of apple cider vinegar before every meal, starting with one teaspoon and then working up to two or three. As well as helping you metabolise fat, the vinegar is said to reduce your hunger and cravings. But does is actually help you lose weight?
Though many people are quick to dismiss apple cider vinegar as just another fad diet, a report in the European Journal of Clinical Nutrition showed that not only does vinegar help to control blood sugar and insulin levels following a carbohydrate-rich meal, but it helps to create a feeling of fullness (called satiation). After ingestion of 2 tablespoons of vinegar followed by a carbohydrate-rich meal, the sense of fullness was more than doubled. The beneficial effect is produced by the acetic acid content of the vinegar. Most vinegar sold in retail stores is 5% acetic acid. According to the Journal of American Diabetes Association and additional benefit is that a more acidic stomach may also increase the absorption of nutrients like calcium, magnesium, B vitamins and vitamin C. However, an acid substance may irritate existing gastric ulcers as well as cases of heartburn (acid reflux).
You might also like...
A spoonfull of heatherhoney dissolved in 3/4 mug of boiling water add spoonfull of applecider vinegar and top up with whisky exc for circ, arth, & gen, health
John angus Bruce
- 22-May-11 @ 7:48 AM