Asparagus For Heart and Gut Health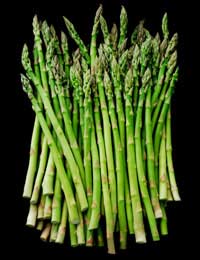 Asparagus has been prized for its unique flavour and its medicinal properties for over 2000 years. Originating in the eastern Mediterranean region, it has become naturalised throughout much of the world. It is believed to be cultivated in ancient Egypt with varieties discovered in northern and southern Africa. It lost popularity in the Middle Ages, but regained distinction in the 18th century by Louis XIV. Asparagus is cultivated in many subtropical and temperate parts of the world today.
Asparagus and Heart Health
Asparagus is a great source of folate. Folate helps produce and maintain new cells. This is especially important during periods of rapid cell division and growth such as infancy and pregnancy. Folate is needed to make DNA and RNA, the building blocks of cells. It also helps prevent changes to DNA that may lead to cancer. Both adults and children need folate to make normal red blood cells and prevent anaemia. Folate is also essential for the metabolism and maintenance of normal levels of the amino acid homocysteine.
Folate (along with vitamins B6 and B12) is necessary for the conversion of homocysteine into cysteine. When folate levels are low, blood levels of homocysteine rise-a situation that significantly increases the risk for heart disease. High levels of homocysteine cause atherosclerosis by reducing the integrity of blood vessel walls and by interfering with the formation of collagen (the main protein in connective tissue). Elevations in homocysteine are found in approximately 20-40% of patients with heart disease, and it is estimated that consumption of 400 mcg of folate daily would reduce the number of heart attacks suffered by Americans each year by 10%. Just one serving of asparagus supplies almost 60% of the daily recommended intake of folate.
Asparagus and Gut Health
Contained in asparagus is a prebiotic fibre called inulin. Inulin is only digested partially and so is fermented in the colon. This helps to stimulate the growth of the friendly 'probiotic' bacteria that we have living in our gut. In this way, eating asparagus may help to maintain digestive health. Because 70% of our immune system is found in the gut, the prebiotic effects of asparagus may also help to support immune health and increase resistance to disease.
Per 80g raw (equivalent to one five stems)
Fat - 0.5g
Saturated - fat
Cholesterol - 0
Dietary fibre - 1.36g
Calories - 20kcal
Carbohydrate - 1.6g
Protein - 2.32g
Pro Vitamin A (carotene) - 252mg
Vitamin C - 9.6mg
Vitamin E - 0.9mg
Folic Acid (folate) - 140mg
Iron - 0.56mg
Calcium - 21mg
Potassium - 208mg
Sodium - 0.8mg

Try to buy asparagus that is firm and has stalks of bright green shade (or almost ivory) with tight tips. Spears on older plants will be wider, younger ones, more slender ; both are tender and flavoursome. Store asparagus tightly wrapped in a plastic bag for up to three days in the refrigerator. It may also be stored standing upright, with the stems immersed in about an inch of water and the tops covered with plastic.
You might also like...