Minus Calorie Foods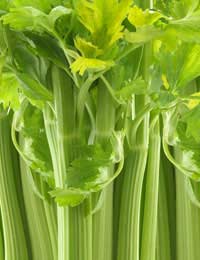 Minus Calorie Food.
Minus calorie food, or negative calorie food, is a term given when the actually eating and digestion of the product uses more calories to process than is actually contained in it. This means that the food you are eating actually burns calories as opposed to putting calories into your diet and storing as energy to be used later or as fat reserves.In general, the average person will use around 10% of their total daily calorific intake to consume and digest food, any extra calories taken, will be stored as fat around the body. When foods containing minus calories are consumed, this level will increase, sometimes resulting in a negative calorie effect, great for slimmers.
Minus Calories For Weight Loss.
For those slimmers who find it hard not to graze or snack all day, minus calorie foods can provide an excellent source for being able to do this.Snacking on these types of food, allow the pleasure of eating, without the worry of retaining the calories. The body's natural metabolism will in fact use more calories to process the food than the food has in it.For most of these foods, the action of chewing the goods uses many calories in itself as most of these items are very fibrous and require a lot of mastication. Once the food reaches the stomach and the digestive system takes over, the metabolic rate increases in order to breakdown and process the food through the system.
Foods Containing Minus Calories.
Not only helping with those struggling with dieting, these food types are also packed with essential vitamins and minerals so nibblers can be safe in the knowledge that whilst they are slimming they are also getting most of the nutrients that they need to remain in good health.Most green vegetables, such as broccoli, spinach, asparagus, celery and cabbage are included in this group, as are, beetroots, grapefruit, pineapples and papayas.Little and often is the key with these produce as some, especially the fruits contain a lot of natural sugars that will all add up during the day. To assist weight loss, it is advised that fruits are kept to a few portions a day and most material used for snacking should be vegetables.To enjoy the benefits of these items to their fullest, where possible, the item should be eaten raw to gain the most of their minus calorie attributes.
It should be noted though, that nothing will aid weight loss greater than by consuming a balanced diet containing all the food groups in healthy portions. Weight loss depends greatly on a person's body mass index, how much exercise they take, lifestyle issues and to some degree genetic and medical factors.It would be unrealistic to believe that a person can consume enormous varieties of any of the foods mentioned as they all contain natural sugars and cannot take the place of certain starched and proteins present in other foods.These items are given as healthy options to snack on and should not be solely consumed.
You might also like...