Garlic is Good For You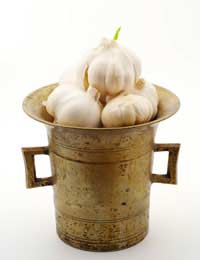 Garlic's Rich History
Garlic (Allium sativum) was introduced from Europe with the settlers. It has been naturalised from New York to Indiana south to Tennessee and Missouri. It is native to roadsides, pastures and open woods. Garlic has been a good friend to humankind for centuries. An Egyptian papyrus from 1,500 B.C. recommends garlic for 22 ailments. It is said that the Egyptians fed it to slaves building the pyramids, to increase their stamina. In ancient Greece and Rome, it was claimed to have even more uses, such as repelling scorpions, treating dog bites and bladder infections, curing leprosy and asthma. In the Middle Ages it was commonly thought to prevent the plague. Research in 1858, by Louis Pasteur, documented that garlic kills bacteria. During World War II, when penicillin and sulphur drugs were scarce, garlic was used as an antiseptic to disinfect open wounds and prevent gangrene.
How Garlic Protects Itself
Garlic cloves are odour-free until crushed or processed when garlic supplements are manufactured and cross-section studies have indicated that the substrate alliin and the enzyme allinase are located in different compartments. This unique organisation suggests that it is designed as a potential defence mechanism against microbial pathogens in the soil. Invasion of the cloves by fungi and other soil pathogens causes the interaction between alliin and allinase that rapidly produces allicin and which in turn inactivates the invader.
How Garlic Protects You
Antibacterial Properties

The antibacterial properties of crushed garlic have been known for a long time. Different garlic preparations have been shown to perform a range of antibacterial activity against types of bacteria including Escherichia, Salmonella, Staphylococcus, Streptococcus, Klebsiella, Proteus, Bacillus, and Clostridium. Garlic extracts are also effective against Helicobacter pylori the cause of gastric ulcers. Interestingly, various bacterial strains resistant to antibiotics such as methicillin resistant Staphylococcus aureus as well as other multidrug-resistant enterotoxicogenic strains of Escherichia coli, Enterococcus, Shigella dysenteriae, S. flexneni, and S. sonnei cells were all found to be sensitive to allicin in garlic.

Cardiovascular Properties

High cholesterol and high blood pressure help trigger atherosclerosis, or thickening and hardening of the arteries - the leading cause of death in the Western world. By lowering cholesterol and your blood pressure, garlic protects your arteries from potential disaster. Garlic also slows the stiffening of arteries that happens with age. A study of healthy adults ages 50 to 80 found garlic helped keep the aorta, the body's main artery, elastic. Ajoene, along with garlic's other compounds, stops your blood from clumping and clotting. This keeps your blood flowing more smoothly and reduces your risk for a heart attack or stroke. Garlic's natural antioxidant properties can also help protect the heart from damage after surgery.

Immune System Boosting Properties

Recent studies reveal that the phytochemicals in garlic show promise for boosting the immune system. Preliminary studies in humans, using an alliin standardised garlic powder preparation, have demonstrated positive effects on immunoreactions and phagocytosis. Another human study was conducted with an unrefined garlic extract (5-10 g/day) which was given to AIDS patients. For the seven patients who completed the 12-week study, there was a major increase in the percent natural killer cell activity from a seriously low mean value of 5+-4% to a more normal mean value of 36+-15%.

You might also like...