Natural Supplements From The Hive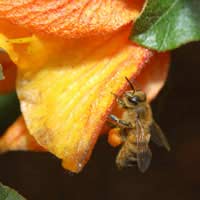 Bee Pollen
Bee pollen is the powdered substance produced by the anthers of flowering plants that honeybee collects and mixes it with its own digestive enzymes. It has been eaten for centuries and has proven nutritional benefits for humans and animals alike. It is contains 15 percent protein and vitamins, amino acids, essential fatty acids, enzymes, copper, iron, potassium, magnesium, and simple sugars.
Bee Pollen Can Combat Disease
Bee pollen is also high in bioflavanoids. Bioflavanoids are powerful antioxidants that combat free radical activity associated with conditions such as cardiovascular disease, arthritis, cancer, diabetes and poor liver function, as well as Parkinson's and Alzheimer's disease. Endocrine and nervous system disturbances, high blood pressure, mental exhaustion, sore throats, and low libido are some more examples of health problems bee pollen has been shown to be effective for. Athletes often use bee pollen to boost their energy levels and enhance endurance. It has also been shown to be effective at reducing return to normal heart rate and breathing.
Bee Pollen for Allergies
Interestingly, bee pollen has also been used to build up immunity against allergens. Bee pollen is not the same as airborne pollens. It is both stickier and heavier. If you begin treatment before the allergy season commences, you may be able to avoid seasonal allergies altogether. It is believed to be because of bee pollens quercetin content. Quercetin is a chemical that reduces the body's natural production of histamine. Bee pollen can also help relieve symptoms of asthma. Some people may be allergic to bee pollen (an estimated 0.5 of the population). It is best to try taking a small amount at first. If you experience a rash, discomfort in breathing or any other signs of reaction then you should discontinue taking it.
Bee Propolis
Bee propolis is a resinous substance which bees collect from plants. Along with beeswax, bees use propolis in the construction of the hive. Bee propels is believed to stimulate phagosytosis, which is the means white blood cells destroy bacteria. Because of this action, as a supplement, it is an excellent aid against bacterial infections.
Propolis for Inflammation
Propolis is also beneficial used as an ointment for cuts and bruises because of its soothing antibacterial effect. Beneficial effects have also been reported regarding its use against inflammation of mucous membranes of the mouth and throat. This makes it effective for dry cough, sore throat, halitosis, tonsillitis and mouth ulcers. It is also effective at boosting the immune system and helping control cell breakdown.
Bee Pollen for Weight Loss
Bee pollen has for some time been reputed to be beneficial for weight loss. It is claimed that bee pollen works by stabilizing and rebalancing your body's chemical make-up and also stimulating your metabolism. It is certainly low calorie, containing only 90 calories per ounce. Advocates also claim that it can also dissolve and flush fat from the body due to its lecithin content. To date there have been no scientific studies to support these claims, though hundred of people claim to be using bee pollen successfully.
Caution
When using bee products you should make sure that they look and smell fresh and come in an airtight container. If you are using bee products for the treatment of allergies it is best to use products obtained within a ten-mile radius of your home. This will result in desensitization to pollen in your local area.
You might also like...