Diet Patches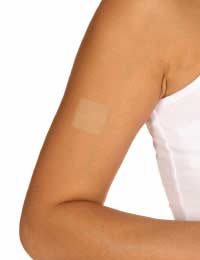 Diet patches are becoming increasingly popular and are being toted as an easy way to help you lose weight-just attach them to various pars of your body, use them for a period of weeks and watch the pound disappear. But do diet patches actually work?
There are a number of diet patches available on the market each of which claim to deliver a number of ingredients through the skin, transdermally. Diet patches claim that the herbal ingredients in the patch will burn fat, suppress appetite, and stimulate metabolism. Most diet patches contain the same four main ingredients:
Guarana- guarana is derived from a Brazilian plant. It is a nervous system stimulant. It is also considered the least likely of all caffeine plants to cause anxiety.
Chromium-chromium is useful for regulating insulin function and balancing blood sugar levels. If you have too little chromium, you may develop hypo- or hyperglycaemia, extreme fatigue and sugar cravings. It has generated a lot of interest in its alleged ability to increase energy and burn off fat, increase muscle mass, decrease body fat and promote weight loss.

Garcinia cambogia-is reputed to prevent the conversion of carbohydrates into fat by inhibiting the action of the enzyme citrate lyase.
Fucus vesiculosus (bladderwrack or brown seaweed) - diet patch manufacturers claim that bladderwrack burns fat due to its high content of iodine. Iodine is used by the thyroid gland to make various thyroid hormones that regulate many metabolic processes, such as growth and energy use.
There are no scientific studies that show diet patches to be effective in inducing weight loss. Firstly there have been no clinically proven studies to support either combination of ingredients or the delivery system of these weight loss patches. Though some of the ingredients in the patches that are able to be absorbed through the skin, may stimulate the metabolism, or suppress the appetite, it is difficult to see how any of them could actually help burn fat or reduce fat intake. Some people argue that the amount of ingredients needed for fat loss must get into your system within a short period of time in order to have maximum effect; this is not feasible with diet patches. Most doctors and nutritionists would recommend that you avoid using diet patches and stick to a calorie controlled diet and regular exercise as a healthy weight loss and weight maintenance programme.
You might also like...