Nutrition Bars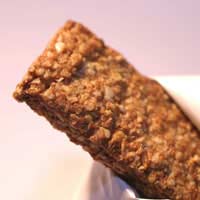 Nutrition bars go by many names including "meal-replacement bars," "energy bars," "protein bars," and "sports bars." Walkers, runners, cyclists, marathoners and triathletes alike enjoy them. As well as benefiting from their nutritional content, they are enjoyed for their taste and convenience. But even these health snacks can be non-beneficial if you over do them. So what makes these bars purpose-built for an athlete?
What is the Composition of an Energy Bar?
Although definitions are not well established, "energy bars" tend to claim to contain more carbohydrates, while "diet bars" (also called "weight loss" bars) generally claim to contain fewer carbohydrates. "Meal- replacement bars" are typically the largest of the nutrition bars - weighing 70 to 90 grams - and have proportionally higher amounts of carbohydrates, proteins and fats, while "protein bars" are simply higher in protein. Some bars are combinations (such as a "meal-replacement, protein bars") while others do not claim any specific purpose. Bars may also include vitamins and minerals or other ingredients permitted only in dietary supplements, such as ephedra, and therefore must be labelled as supplements, rather than foods. It pays to read labels carefully before choosing.
Generally, nutrition bars are designed to provide a compact source of energy, carbohydrate and protein. Although the size and composition of bars varies, the carbohydrate content is typically 30-50 g per bar. Most bars are low in fat (2-3 g per bar) and fibre. The protein content of sports bars ranges from minor (1-5 g), to substantial (10-15g or more). Most sports bars are fortified with vitamins and minerals, so that an intake of 1-2 bars typically provide the daily-recommended intake of micronutrients. All this means that they're ideal for eating during exercise or immediately after, when other solid foods are not well tolerated.
What Kind of Nutritional Support can They Provide?
Nutrition bars are designed to assist people in meeting their dietary needs in specific sports situations:
They provide a more concentrated source of carbohydrate than sports drinks and provide a substantial fuel boost when consumed during or after exercise.
They provide an easily chewed and digested form of solid food to help satisfy hunger during prolonged exercise (i.e. cycling).

They provide an easily consumed source of carbohydrate and protein for post-exercise recovery.
They provide a reliable source of protein and micronutrients for the athlete who is travelling or living in a situation where there is limited access to a range of nutrient-rich foods.
None of these bars are designed to be used as a general snack, or as a replacement of daily meals. Substituting wholesome foods such as cereal bars, cereal, fruit, toasted muffins, sandwiches and low-fat fruit yogurt with energy can prevent you from meeting vital requirements for a range of nutrients that are not provided in the sports bar. Eating too many highly fortified nutrition bars could also potentially contribute to an overdose of minerals. When you eat several highly fortified energy bars per day, plus take a multivitamin and mineral supplement and eat highly fortified breakfast cereals, you're consuming megadoses of vitamins and minerals. Whereas you will most likely excrete the excess vitamins in your urine, your body may develop health problems related to mineral imbalances.
Don't be fooled into thinking that energy bars are equivalent to a nutritionally balanced meal. They are for purposed of supplementation, not meal replacement. They cannot take the place of natural sources of vitamins, proteins and minerals.
Though many nutrition bars have been fortified with minerals and vitamins in vegetables and fruit they don't contain the natural flavonoids or phytochemicals found in the source foods. They also do not contain an equivalent amount of fibre that you would get from a proper healthy meal.
You might also like...