Following a Portion-Controlled Diet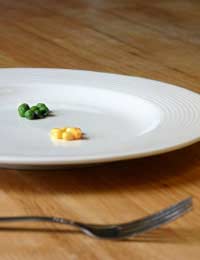 Everyone knows the secret to dieting: exercise more and eat less. Unfortunately, for most of us, both of these steadfast rules are incredibly difficult to follow. Now, however, eating less can be a bit easier, simply by following a portion-controlled diet.
When it comes to losing weight, size DOES matter. How much you eat can greatly influence how much you lose, and eating smaller portions is a fantastic way to continue eating what you love but get healthier.
In fact, according to the Obesity Journal, following a portion-controlled diet for at least two years is by far the best way to maintain effective, long-lasting weight loss. Other studies have shown that it is also helpful in preventing weight gain in diabetics.
Knowing Your Portions
Portion control can be THE essential factor in keeping the nation's obesity rates down, according to recent studies. It is estimated that meal portion sizes have increased by as much as one-fifth in the last few years and dinner plates are significantly larger than they were 20 years ago. As a result, our health - and our figures - are suffering.
It's easy gauge the correct portion sizes for every meal. One tennis balll is about the same as a single cup serving, while a three-ounce portion is about the same size as a deck of cards. A one-ounce portion is equivalent to your thumb size, which can help you estimate how much you should put on your plate at one time.
Here is a typical, healthy, portion-controlled menu for one day:
One and a half to two cups fruit; three cups vegetables
Six-seven servings healthy carbs, including half cup pasta or rice, one slice bread, one cup cereal
Three servings low-fat dairy: one cup milk, quarter cup cottage cheese etc
Five to six ounces of protein (two servings lean meat, chicken or fish)
Five to six portions of oil and fat
100-300 extra calories – from snacks, desserts or treats
Tricks of the Trade
There are many easy ways to trick your body – and mind - into eating smaller portions, ways that are so simple you'd be surprised. Here are some tried-and-tested ones that really work:
Eat three meals a day based on pitta bread pockets. Stuff with healthy fillings and don't eat more – unless you count fruit, veg and healthy drinks such as water and herbal tea.
Allow yourself only two snacks a day, and make those either fruit, veg, cottage cheese, nuts or low-fat yoghurts and/or smoothies.
If you must eat a restaurant meal, ask for a takeaway container and immediately spoon half your portion into it. Will make a tasty meal later and is good for your wallet as well as your waistline! Ordering from the children's menu, if possible, is also a good idea.
If you crave a treat, have on hand snacks that come in individual sizes. How easy is it to pig out on a family-sized packet of crisps, or eat a large chocolate bar by yourself? Buy mini-sized snacks or ones that come in smaller portions and only allow yourself a little at a time.
Buy smaller dishes. Not ones made for a mouse, but ones that will appear comfortably full with only half what you would normally load onto it. Tricking your eyes is half the battle won.
If you want to follow the diet to the letter, invest in a Diet Plate, which comes specifically tailored for men and women. This innovative slimming tool is split into specific sections so you can control portion sizes more easily. A portion-controlled breakfast plate and weight maintenance plate are also available.
Fun Fact
Most dieters believe that pasta, especially whole-wheat pasta, is healthy. But did you know that a typical 14.5oz bag of pasta contains EIGHT portions? One reccomended portion of pasta is 2-3oz.
Portion control is important if you want to lose weight, as reducing what you eat by 500 calories per day over a significant period of time will lead to weight loss. But to maintain a good weight, you also need to eat less fat, consume more fruits and veg and get regular exercise. It's all up to you!
You might also like...