How to Avoid Fad Diets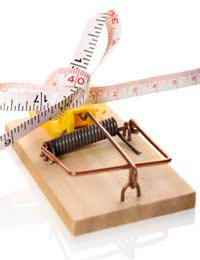 Many of us, in a desperate bid to lose weight, resort to fad diets that promise we'll shed the pounds quickly. But studies have proven that fad diets don't lead to long-term weight loss results, for a number of reasons.
Fad diets have several problems. Often, you lose fluid instead of fat, and gain it all back once you start eating normally again – even if you eat healthy meals. And sometimes the diet is so restrictive that sticking to it is beyond the grasp of most mere mortals.
Other fad diets cut out important foods that we need to stay healthy. Cutting them from your diet for a short period of time may not do you any harm, but long-term your health could suffer. In some cases, fad diets have even resulted in malnutrition.
Disillusionment and Despair
Many people who try – and fail – a fad diet get disillusioned, and often try another one when the first one ends up disastrously. Then the cycle repeats itself again and again, leading to faddy yo-yo dieting that gets us nowhere.
In fact, some nutrition experts believe that experimenting with fad diets could also be instrumental in helping people develop eating disorders, such as anorexia.
Let's face it, if a fad diet really could work miracles, the problem of obesity would no longer exist to the extent that it does now.
The only way to lose weight – and keep it off – is through exercise and healthy eating. That means making lifestyle choices that will affect the way you eat every day for the rest of your life.
Signs of a Fad Diet
There are several ways in which you can tell if a diet is just another fad diet, or if it's an eating plan that could really work for you. Some signs include:
Does the diet promise incredibly rapid weight loss? If so, you are losing fluid, not fat, and will put it back on as quickly as it disappeared.
Does the diet incorporate a lot of "superfoods" or magic foods that are designed to magically help you lose weight? No magic ingredient can undo years of unhealthy eating habits.
Does the diet promise that you can lose weight – and keep it off long-term – with no mention of exercise? Healthy eating incorporates exercise a fundamental part of a long-term healthy lifestyle change.
Does the diet eliminate certain foods? If so, you might be tempted to binge – and quit the diet altogether. Or you might put all the weight back on once you start eating normally again and incorporate those foods back into your menus.
Does the diet suggest foods that promise weight loss, but may be bad for some people? Eating eggs and red meat, for example, instead of carbohydrates, may sound like a good idea in the quest to shed pounds. But for people with high cholesterol or heart problems, a low-carbohydrate diet plan could be dangerous.
Typical Fad Diets
Here are some of the most common types of fad diets out there. The reason that there are so many is that they don't really work, so there is always room for a new one!
Blood type diets. Savvy PR people try to convince us that the type of blood you have can determine how you should lose weight. And I have some snake oil I can sell you…
Magic food diets. See above.
Controlled carb diets. See above.
Food combining diets. Do you really think that combining one food with another will lead to weight loss? The reason you might lose some pounds on this diet is because you'll eat less. That's it.
Diet pills. We all know about pills and supplements that promise weight loss with little or no effort on your part. Remember, if it sounds too good to be true, it probably is.
People who want to lose weight need to take stock of their eating and exercise habits, and commit themselves to a new healthy eating and exercise plan that can be followed for a lifetime.
Many of us search for a quick fix when it comes to dieting. Unfortunately, quick fixes don't work in the long-term. Make healthy habits a priority and start walking, join a gym or get yourself an exercise bike. You're on your way!
You might also like...