Top Exercises to Trim Hips and Thighs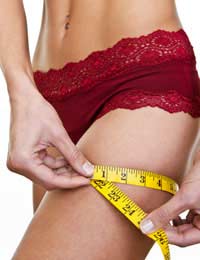 The bad news is that the majority of British women are pear-shaped - with heavy hips and thighs - and that they don't like it. The good news is that storing fat in those areas is actually a lot healthier than being apple-shaped, with fat in the abdominal area.
In fact, studies have concluded that being pear-shaped can actually be good for you. You have much greater health risks being an apple, as the abdominal fat surrounding your internal organs can be dangerous.
That said, there is no reason why pear shapes cannot make the most of their figures, and exercise away the excess fat on their thigh and hip areas which they don't like. Exercise not only makes clothes fit better, it's also good for the heart – and for moods.
Getting the Best Results
Before you start a workout to transform your pear shape, it's key to know exactly what parts of the body you need to target to look – and feel your best. They are:
Quadriceps: These are the strongest muscles you have in the area, located in the back of each thigh.
Gluteals: These are the muscles in your backside.
Adductors and abductors: They define the inner and outside of each thigh.
Hamstrings: They go down the back of each thigh
Getting Started
A good warm-up is always mandatory when it comes to exercise, to avoid injury. You should also have proper exercise gear, a good mat and a water bottle. Remember, never start any diet or exercise programme without consulting your GP first.
With hip and thigh exercises a good rule of thumb is to complete a set when your muscles feel tired. That means you should start gradually, and work up to longer sessions.
In most cases, doing three sets, each with up to 12 repetitions, should tire out the muscles – if not, do a bit more. If you work out three times a week, you should see a noticeable improvement in about six weeks, depending on your own fitness level.
Top Hip and Thigh Exercises
Squat. Squats are seen as the best way to strengthen and tone thighs. Stand with feet apart and squat until knees and hip joint are even then stand up again. You should be able to do this with your legs shoulder-length apart. Warning: this can be difficult for people with knee problems.
Squat thrust: Similar to a squat but involves holding the squat in place, then leaping up like a frog (also called "frog thrust". Not recommended for those with painful joints, but it you can handle it, this works wonders on both hips and thighs.
Ball squat. Similar to a regular squat but gentler. Place an exercise ball between the curve of you back and the wall then squat down. Bend knees, lowering up to five inches, then hold for several seconds and stand up again. Try eventually to hold for longer and go a bit lower. Repeat several times.
Hip abduction. Lie on right side with head resting comfortably on top of right arm. Try to keep your right leg completely straight as you carefully lift your bend your left leg so that you can place your foot on the floor in front of the right leg. Then, holding your left ankle, lift your other leg up.
Lunge.Stand in position again with feet shoulder-width apart, then step straight forward so that you land on your heel. Make sure that the knee is at a 90-degree angle so you don't put too much pressure on the knee area as you lunge. Do again so back knee almost touches the ground then return to original position.
Healthy eating and exercise are the only way you can trim heavy hips and thighs, and develop the body shape you have always dreamt of having. It can take a little time and effort, but it can be done. Good luck to you – you have already taken the first step!
You might also like...