Fitting Exercise Into Your Daily Routine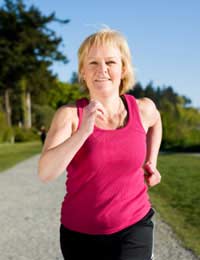 Let's face it, there is no use buying a £500 gym membership if you never have time to visit the gym. If you feel like you have to time to exercise, take heart: where there's a will, there's a way.
The key to staying active is to work exercise into your own schedule, and to make a little time several days a week to get those endorphins going.
We all know that people look better, feel better and even act better when they stay fit and get active. So if you're tired of not having time to exercise, or are just tired of being tired, then the following suggestions could be for you…
Add a Little Extra to Your Daily Routine
Busy people often find it difficult to take hours out of their day to exercise, although exercising regularly will actually give them more energy to do the things they need to get done.
If you are always thinking of excuses to avoid the gym, try these ingenious ways of fitting exercise into your everyday routine instead…
Walk a little bit extra. Incorporating a bit of extra walking into your daily routine can make a big difference. Walk to the shops, or get off the bus one stop early from work and walk home.
Buy an exercise DVD. Many people who say they don't have enough time to exercise still find time to watch a bit of telly in the evenings. Why not combine the two – and work out alongside an exercise DVD?
Get cycling. If watching other people is too boring, why not watch your favourite telly programmes – while you exercise? Hopping on an exercise bike as you watch the latest X-Factor or Holby City is a great way to wind down and get fit at the same time.
Find something you love to do. Many people hate the gym but find they love yoga – or vice versa. The key is finding exercise that is right for you. It's hard to fit in exercise if the activity is something you dread.
Opt for Shorter Workouts
Another way to exercise more is to schedule less. Instead of worrying that you can't visit the gym for an hour and a half three times a week, make time to exercise every day for 15 minutes.
Short 15-minute workouts will give you the energy boost you need, and help you to stay fit. As time goes on, you may even find that two 15-minute workouts is better than one, and you might even increase it from there, either with more workouts or those of a longer duration.
In fact, a study published in The Journal of Physiology found that short bursts of exercise can produce similar results to endurance training – and it can also benefit the heart. Here are some activities you can do in just 15 minutes:
Stair-climbing. If you work in an office building, this is a perfect exercise to get fitter and lower your blood pressure at the same time. Take 15 minutes out of your lunch break and climb those stairs. Start slowly, and increase your goal daily. Hint: stair-climbing before lunch is preferable to after.
Running. A short, brisk run in the morning can start your day off to a good start – even just 15 minutes of running can make all the difference.
Power-walking. A great way to lose weight and increase cardio health. Power-walking is also good for people who have knee and/or other problems and want to avoid running.
Stretching. Start the morning with healthy stretches to loosen up those muscles and invigorate tight tendons. After a few weeks add some high-intensity exercises, such as star jumps, skipping rope and squats.
Doing a little bit of exercise every day will improve your health, help you to slim down or stay slim, and ideally help you want to do even more. Start slowly and build up to a longer routine, and soon you'll find that fitting exercise into your daily routine is child's play.
Always consult your GP before starting any exercise plan, however, especially if you have not exercised for a considerable period of time. And make sure you warm up before and cool down after any exercise routine.
You might also like...