Walking Your Way To Weight Loss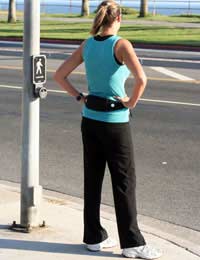 Exercise in an important part of any successful weight loss program. Walking is a great way to lose weight. Not only does it not require any special equipment, but you can do it anywhere. It also puts little stress on your body and is a great way to unwind.
Tips for Better Waking
Walk with your back straight and your shoulders held slightly back.
The heel of your foot should touch the ground first. Roll your weight forward.
Swing your arms by your sides as you walk.
To avoid sore muscles or joints, start gradually. Build up your speed and distance over several weeks.
Stay hydrated. Drink 8 to 10 ounces of water for every 20 to 30 minutes of the activity.
How to Fit Walking Into Your Daily Routine
If you can, walk to or from work. If you take public transport, try getting off a stop earlier and walk from there.
Take the stairs instead of the lift. If you work on a high floor, try getting off the lift a floor earlier and walk up. You can then increase the number of floors you climb, as you get fitter.
Go for a short walk at lunch-time rather than sitting for the whole break.
Walk to the shops instead of taking the car or bus.
If you sit down for long periods of time try having a quick break every hour or so to walk around.
Take a walk with friends or family - enjoy the countryside, local parks or a trip to the shops on foot.
Count Your Steps
Try using a pedometer. A pedometer is a small step counter that you clip to your belt or waistband. It contains a pendulum that registers every step you take so that you can see how much walking you do each day. Some pedometers also work out the distance you have walked and the calories you have used.
Health experts recommend walking around 10,000 steps/day (about 5 miles) on most days for cardiovascular health. It's possible more steps may be needed for weight loss. Determine your current number of steps for a couple of days and gradually build up. The average person gets less than 6,000 steps per day. Many people need to include some type of daily walking program for about a half hour to one hour to get to 10,000 steps. Don't forget how important it is to get a well-fitting, comfortable pair of shoes.
You might also like...