Weight Training for Weight Loss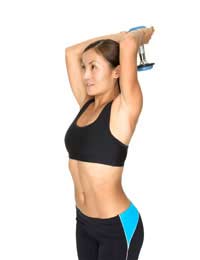 When weight training for weight loss it's important to first dispel a few common myths. First of all, contrary to what you might hear on television commercials advertising home gym equipment there is no such thing as spot weight reduction. Fat is evenly dispersed throughout the body and fat reduction will be similarly reduced. So exercising you lower abdomen will tighten the muscles there but will not reduce fat in that specific area.
Secondly, using lighter weights and performing more repetitions will not use more fat or tone your muscles more than using a heavier weight with more moderate repetitions will. Typically a set's duration is 20 to 30 seconds. For the average fit person, it requires 20 to 30 minutes of continuous aerobic activity with large muscle groups (e.g. Gluteus Maximus and Quadriceps) to burn even 50% fat. Performing a few extra repetitions on a weight training exercise is not significant enough to burn extra fat and may in effect burn less fat. If intensity is compromised, less fat may be burned when light weight is used with high repetitions.
Does Weight Training Lead to Weight Loss?
Ultimately it can. Unlike fat, lean muscle burns calories even at rest. So the more lean muscle you have, the higher your metabolism is. Weight training will not only protect your lean muscle, it will actually build it. This also requires extra calories since your body will use calories to repair the tissue you damaged working out and to build new muscle tissue. This is not done while you are working out but later, while you are resting. Providing you are not over compensating with a high calorie meal after your workout, you body with use these calories from your fat reserves. This can be a more efficient way of burning calories as your body will continue to burn calorie up to 72 hours after weight training compared to aerobic activity which takes 1 hour of say, cycling to burn 300 calories.
The Benefits of Strength Training
When you have a high percentage of body fat, that body fat is stored not only in the tissues that are obvious - such as your hips and your midsection, your arms and legs and so on - it's also stored intramuscularly, which means it's stored within the muscles of your body. That fat takes up a lot of space in the muscle, so it actually makes the muscle look bigger, because there's fat inside. When you start losing body fat, even if you're engaged in strength training, that intramuscular fat will begin to vanish. So even if your muscle mass begins to grow, your overall muscle size is probably going to be smaller when you're at a lower percentage of body fat. The net change in your muscle size is going to be almost nothing, unless you really start to do strength training on a regular basis for a period of a year or two, and then you might actually begin to put on a little bit more muscle.
Studies have shown that that a three-month basic strength-training program resulted in the subjects gaining three pound of muscle and losing four pounds of fat, while eating 370 more calories per day (a 15 percent calorie increase). Remember, aerobic exercise generally doesn't increase muscle tissue. In fact, excessive amount of aerobic exercise combined with a low-calorie diet can cause the loss of some muscle tissue.
You might also like...