Exercise at Home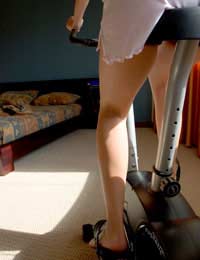 Not everyone wants to go to the gym to work out, but you don't have to have a personal trainer or a home multi-gym to have a good regular exercise routine to stay in shape. There are simple and effective exercises you can do in the comfort and privacy of your own home that will keep you trim and feeling great. To be on the safe side, it's a good idea to check with your GP before starting a regular fitness routine, especially if it's been a while since you have had any regular exercise. Start off gently and gradually increase your pace once you have found your personal comfort level. Don't push yourself too hard, if you feel any pain or you get out of breathe or feel dizzy stop and take a break. Once you are ready to go, here are some exercises you can try out at home.
Lunges
Lunges are great exercises for toning your thighs and bottom, and you can start of genty and gradually increase the depth of the lunge as you become suppler. Remember to keep your body upright and positioned directly above your hips. Stand with your feet about 18 inches apart with your right foot in front and your left foot to the rear. Hold the back of the chair for support if you need to. Put your weight onto your front leg and bend both knees slightly, lifting your rear ankle slightly off the floor. Once you have reached a comfortable position try holding there for 5 seconds. Slowly straighten your legs and return to the starting position. Repeat the lunge another 4 times with your right leg forward, then repeat the whole exercise with your left foot forward.
Side Leg Raises
Stand next to the chair using one hand to balance. Throughout the exercise keep your body facing forwards. Do not rotate your hips or shoulders when you are moving your leg. With your left leg slightly bent, raise your right leg out sideways to a position that is comfortable for you. Keep your toe pointing forward and ensure the rest of your body is still facing forward. Hold the leg out to the side for 3 seconds, then return back to the starting position. Repeat the Side Leg Raise a further four times. Repeat the exercise using the left leg, keeping the body straight and the right leg slightly bent.
Bicep Curls
Don't worry if you don't have any free weights at home. You can just as easily use a bag of flour or a can of vegetables. Stand upright, or sit up straight on a chair, (whichever you find most comfortable with), with your feet shoulder width apart. Hold your weight down by your sides with your palms facing forward. Slowly, without moving the upper part of your arms, bend your arm, keeping your wrist straight; raise the weight up to your shoulder. Lower the weight back to the starting position, keeping the movement smooth and slow. Repeat this exercise for a further 3-5 repetitions, or more if you feel comfortable. Depending on your personal preference you can do the Bicep Curls at the same time with both arms, or alternatively lifting first with one arm and then the other.
The Triceps Curl
This is another exercise that will help strengthen your upper arms, and again you can use your home-made weights if you don't have and free weights. Stand next to a table with one foot slightly in front of the other. With your weight in one hand and arm by your side, lean forward and rest your elbow on the table. Make sure your knees are slightly bent. Keeping your upper arm in line with your body, bend your weight arm 90 degrees. This is the starting position. Straighten your weight arm out behind you, keeping your arm by your side. Hold the weight in this position for 2-3 seconds. Slowly bend your arm until it is back to the starting position. Repeat the exercise for a further five repetitions using the same arm, then repeat the whole exercise with the other arm.
Chest Firmer
This exercise can be done from either a sitting or standing position - whichever is more comfortable. Hold your arms out in front, elbows bent with a cushion between your palms. Gently squeeze the cushion between your palms, hold for a few seconds, then release. Breathe out as you squeeze the cushion between your palms and breathe in as you release the pressure on the cushion. Initially try to complete 6 repetitions but build up as you begin to increase strength.
You might also like...