Cardio Exercises for Heart, Mind and Body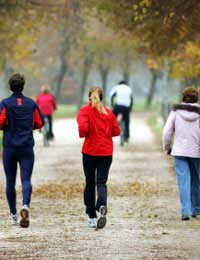 The secret to being fit and in great shape does not lie solely in your body weight, although how much you weigh often plays a big role in how healthy you are. Now experts are saying that cardiovascular fitness levels determine how healthy a person is, more than other more obvious indicators, such as weight.
But what exactly does that mean? "Cardio" means heart, while "vascular" refers to the system of blood circulating through our body. So cardiovascular fitness refers to how efficiently the heart pumps blood – and thus oxygen - to the muscles and other organs in your body.
Exercise – along with healthy eating – is the best way to get your heart pumping at the level it should, and maintain a healthy cardiovascular fitness level. Always consult your GP before beginning any fitness programme, however, especially if you have any medical conditions or have not exercised for a long time.
Learning what exercises maintain heart health is easy, and the good news is that you'll not only be healthier, but you'll also look better and improve your moods at the same time.
Top Five Cardio Exercises
There are several cardio exercises which not only help maintain healthy heart health, but are easy and fun to do as well. They include:
Running. Running isn't for everyone, and people with joint problems are advised to stay well clear. But if your health doesn't preclude it, running is a fantastic way to clear your head, help your heart and lose weight. All you need is a pair of properly fitted trainers and some decent terrain.
Cycling. You can cycle on a stationary bike at home or enjoy the great outdoors – a safety helmet is a must. How slow or fast you go when cycling will determine how many calories you burn up.
Swimming. This no-impact sport will burn up loads of calories while helping your heart. Suitable for older people and those with most disabilities, it is soft and gentle yet still a good way to lose weight. Swimming continuously for a minimum of 10 minutes at one stretch is key.
Aerobics. The definition of aerobic exercise is any type of exercise that will speed up your heart rate for at least 20 minutes –and keep it there. It's up to you, then, what type of aerobic exercise you do. Some people prefer a class at the gym, others prefer following an exercise DVD at home.
Cross Training. Also known as an elliptical trainer, this machine is suitable for people with aching joints, or simply for those who only have time to exercise in the evenings in front of the telly. This exercise machine is designed to simulate pursuits once available only in specific locations, such as running or stair-walking.
These are not the only cardio exercises available, however. Some others include backpacking, badminton, canoeing, kayaking, racquetball, bowling, dancing, golf, skiing, football, volleyball – the list is endless!
Building up Strength
Cardiovascular training will help you to develop a strong muscle base, while losing weight, feeling better about yourself and getting fit at the same time. The best plan involves differing degrees of intensity and frequency at different times, building up slowly initially until you are able to do more and more.
Walking, for example, is a good way to begin to exercise, but you will want to increase the speed and intensity over time to get the full cardiovascular benefits. Once you do, you'll want to add flexibility training to your programme, and also allow time to warm up and cool down every time you exercise.
Ask your GP about what your target heart rate should be, based on your age, gender and current fitness level, and strive to reach that goal.
Cardiovascular exercises are important for your heart, mind and body. They make us look and feel better about ourselves, and can even prolong our lives. Start some form of light exercise today – then build up for more.
You might also like...