Sports Nutrition Myths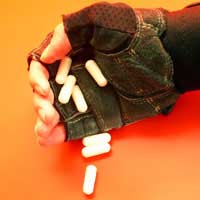 The use of nutritional aids to enhance athletic performance is nothing new. Since the time of the ancient Greeks, athletes have been using nutrients to enhance their physical capabilities. Nutrition has the benefit of improving sporting performance by improving training intensity, duration and recovery. All of these areas will improve performance. But need we supplement our diets to enhance our physical performance or is a healthy balanced diet sufficient? Here are a few common misunderstandings about exercise and nutrition.
Protein
Many people believe that since muscles are composed of protein, eating more protein will convert into more muscle. Although athletes may require slightly more protein than non-athletes to build up muscle tissue, this extra amount is usually fulfilled by a balanced, varied diet. Unless you're a strict vegetarian, you don't need to increase protein consumption to boost athletic performance. In fact, a healthy British diet usually provides more than the recommended 15 percent of calories from protein - more than enough to aid muscle integrity.
Creatine
At the moment a lot of attention is focused on creatine, which is produced naturally by the body. It is manufactured by the liver and kidneys and can be found in muscle tissue, nerve and sperm cells. Its presence in the muscles in the form of creatine phosphate, assists in providing the energy needed to perform muscle contractions. It is then broken down into other chemicals, which used directly to provide the required energy. Muscle creatine regenerates the energy used in the muscle for short bursts of intense activity, usually about ten seconds. Research has shown conclusive evidence that creatine supplements can enhance endurance performance. The use of creatine is almost always associated with a one-to-three-pound weight gain during the initial loading, probably due to water moving into the muscle cells along with the creatine. The long term effects of creatine use are not known, this may be cause for some concern due to its effect on the liver.
Amino Acids
Supplemental amino acids have become popular with fitness because they are believed to build muscle, accelerate the rate of recovery during training and generally improve both psychological and physiological responses during endurance training. Yet research studies have not demonstrated benefits to most athletes. Amino acids are ineffective for this purpose and their long-term health effects are unknown.
Chromium Picolinate
Chromium picolinate is a trace mineral, which has generated a lot of interest in its alleged ability to increase energy and burn off fat. However, there is no research to support claims that it can improve athletic performance.
Anabolic Steroids
Anabolic steroids are substances similar to the naturally occurring hormone testosterone Testosterone assists in the regulation of and sexual development in men. Steroids are popular among weight lifters and track and field athletes because of their ability to increase muscle size and strength. However, muscle build up made with steroids last only as long as they are in use, then they usually disappear. There are also serious and possibly permanent side effects, which include liver malfunction, liver cancer and heart disease.
You might also like...