Supplementing Your Sport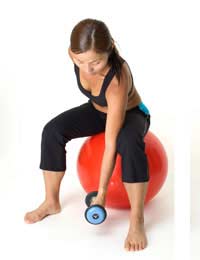 The use of supplemental aids to enhance athletic performance is nothing new. Since the time of the ancient Greeks, athletes have been using nutrients to enhance their capabilities. There is a broad range of sports supplements available today here's a look at some of them:
Amino Acids
Arginine, ornithine, and lysine, are often claimed to stimulate the release of human growth hormone, promote muscle growth and increase strength. There is currently no evidence to support claims that oral amino acid supplements increase growth hormone levels or muscle mass. Weight lifting and endurance training both significantly increase growth hormone levels. Studies are ongoing to assess whether combining the supplements with exercise increases growth hormone levels above those seen with exercise alone.
Antioxidant Vitamins
The vitamins that are considered to have an antioxidant effect are vitamin C, vitamin E and beta-carotene. Strenuous exercise triggers the production of substances called free radicals, which can potentially cause damage to muscle and other tissues. In response to free radicals, the body generates antioxidant enzymes to counteract the effect of the free radicals. Consumption of antioxidant vitamins can augment the action of antioxidant enzymes and, therefore, prevent tissue damage. Vitamin E may help reduce muscle damage from intense exercise, which often results in muscle soreness. The formation of collagen, which is necessary for connective tissues like ligaments and tendons, is one of vitamin C's basic roles. Beta-carotene is significant from a nutritional perspective, because the body can easily transform it to vitamin A. It is the best source of vitamin A, since the body will only make as much as is necessary.
Chromium Picolinate
Chromium picolinate is a trace mineral that helps the cells convert glucose. If you have too little chromium, you may develop hypo- or hyperglycemia, extreme fatigue and sugar cravings. It has generated a lot of interest in its alleged ability to increase energy and burn off fat, increase muscle mass, decrease body fat and promote weight loss.
Coenzyme Q10
Coenzyme Q10 is a coenzyme in the aerobic energy system. The one area in which data is most conflicting is for CoQ10 as an ergogenic aid for athletic performance. Because of its role in ATP synthesis, it is logical that supplemental CoQ10 may support the process of cellular energy production. Research in this area has been conflicting, with some studies showing a benefit and others showing no effect.
Colostrum
While more studies need to be carried out in order to confirm the purported benefits of colostrum supplementation, early evidence suggests many significant effects. It may help muscle tissue recover more quickly after intense training. In addition, it may stimulate immune factors, reducing the likelihood that illness will follow environmental and physical stressors. Colostrum may also increase lean muscle mass. If future research yields continued positive results, colostrum may become a valuable ergogenic aid for muscle growth and recovery.
Creatine
Creatine is both made by the body (from amino acids arginine, glycine and methionine) and gained from the diet. It occurs naturally in meats and fish. An athlete who is a big meat eater may have five grams of creatine per kilogram of muscle, which is near the upper limit. This same athlete must take in approximately 2.5g of creatine per day to replace the natural degradation of creatine that takes place each day. Phosphocreatine (the phosphorylated form of Creatine) provides the means of regenerating small quantities of ATP extremely rapidly, boosting short duration activities. Muscles are much less prone to fatigue and the capacity to undertake strenuous exercise is increased. Activities such as repetition weight training, short sprints, repeated bounding and jumping are all enhanced and therefore the quality of training increases which feeds into higher competitive performances. Studies conducted with middle distance athletes also seem to point to improvement. Research has shown conclusive evidence that creatine supplements can enhance endurance performance. The use of creatine is almost always associated with a one-to-three-pound weight gain during the initial loading, probably due to water moving into the muscle cells along with the creatine. The long-term effects of creatine use are not known. This may be cause for some concern due to its effect on the liver.
Glutamine
Glutamine is an amino acid found in skeletal muscle and the blood, and is the primary fuel source for the intestinal tract and immune system. It also plays a role in muscle glycogen replenishment following exercise. Glutamine is considered a non-essential amino acid. That means the body can manufacture it, and dietary intake of glutamine is not essential. However, recent research indicates that when the body is under severe stress, the amount of glutamine manufactured by the body may not be enough to meet body demands. Recently it has been receiving a great deal of attention; particularly regarding its affects on performance, lean mass and immune function.
Glycerol
It is well known that dehydration significantly impairs endurance performance. Glycerol is a 3-carbon non-intoxicating alcohol. It is a natural component of dietary fats. Triglycerides are made up of a glycerol molecule and three fatty acids. Glycerol is produced from breaking down fats. It is available as Glycerate in packet form and can now be found in some sports drinks. Studies have shown that extra water ingested with glycerol is held in the body for several hours and may enhance performance by a few percent in events lasting more than an hour in hot and humid conditions. Headaches, blurred vision, and stomach upset are side effects for some athletes who take too much too quickly.
You might also like...