Myths About Exercise and Weight Loss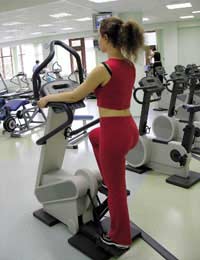 Myth - Skipping meals will help you to lose weight.
Fact - There are a number of studies that find meal skipping during the day increases the likelihood of an eating binge later in the day. Another disadvantage with meal skipping is that it may place your body in the starvation mode and so the body works to conserve its fat deposits by lowering metabolic rate.
Myth - Exercise is not necessary for weight loss.
Fact - Dieting alone can help you lose weight - cutting 250 calories from your daily diet can help you lose about half a pound a week, as 3,500 calories equals 1 pound of fat. If you add exercise to dieting, you can double your rate of weight loss. Experts recommend at least 30 minutes of moderate-intensity physical activity on most, if not all, days of the week.
Myth - You should completely exclude treats from your diet.
Fact - Completely eradicating treat foods from your diet could leave you feeling deprived and may lead to intense cravings and binge eating later in the day. This can not only undo your determination it can result in you actually gaining weight. So best to plan the occasional indulgence without feeling guilty, and stick to planned balanced diet the rest of the time.
Myth - Carbohydrates are fattening.
Fact - Despite all the very scientific theories about carbohydrates and insulin levels used to support this claim, there really is no established scientific evidence to support the claim that carbohydrates are fattening. Carbohydrates provide approximately 4 kilocalories per gram, similar to protein (3.75 kilocalories per gram), and half the energy value of fats (9 kilocalories per gram). You can therefore continue to enjoy carbs whilst on a weight loss diet, but remember to choose the carbs wisely - simple carbs rather than complex ones.
Myth - Some diets or exercises can reduce fat in particular body areas.
Fact - There is no evidence that diets or exercises proclaiming to reduce fat in particular body areas actually work. As the body burns fat from all available stores, a weight loss programme reduces overall body fat - so you can lose a little weight in a particular area, but not without losing elsewhere too. Exercise can help you tone up in specific areas.
Myth - I shouldn't eat between meals.
Fact - On the contrary, eating a small, healthful snack between meals will help keep your blood sugar at an even keel and keep your metabolism going strong. You'll also avoid getting too hungry so you don't over-eat at your next meal.
Myth - I can build bigger muscles by eating more protein.
Fact - Building muscle mass involves two things, progressive overload to stimulate muscles beyond their normal levels of resistance and eating more calories than you can burn off. Because muscle is made of protein, it's easy to believe that protein is the best fuel for building muscle, however muscles work on calories which should predominately be derived from carbohydrates.
You might also like...