Food Allergies and Diet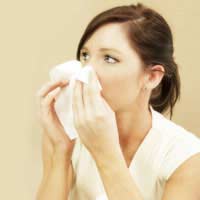 Most people have a bad reaction to a food at some point, and some may worry that an allergy may be responsible - one in five people think that they have a food allergy. However, in adults, true food allergy is estimated to affect only about 1 in 70 adults in the UK. Food allergies in young children are more common, but most children outgrow these by school age.
What is a Food Allergy?
A food allergy is an immune system response to a food that the body mistakenly believes is harmful. Once the immune system decides that a particular food is harmful, it creates specific antibodies to it. The next time you eat that food, your immune system releases massive amounts of chemicals, including histamine, in order to protect your body. These chemicals trigger a cascade of allergic symptoms that can affect your respiratory system, gastrointestinal tract, skin, or cardiovascular system. Although an individual could be allergic to any food, such as fruits, vegetables, and meats, there are seven foods that account for 90% of all food-allergic reactions. These are milk, eggs, nuts, soy, shellfish, fish and wheat.
Symptoms of a Food Allergy
The most common signs and symptoms of a true food allergy include:
Hives, itching or eczema
Swelling of the lips, face, tongue and throat, or other parts of the body
Wheezing, nasal congestion or trouble breathing
Abdominal pain, diarrhoea, nausea or vomiting
Dizziness, light-headedness or fainting
Symptoms often appear within minutes to two hours after the person has eaten the food to which he or she is allergic. The only way to avoid symptoms is to check food labels for ingredients you are allergic to and not to eat those foods. Currently, there are no medications that cure food allergies. Strict avoidance is the only way to prevent a reaction.
In a severe allergic reaction to food - called anaphylaxis - you may have more extreme versions of the above reactions, or you may experience the following life-threatening signs and symptoms:
Constriction of airways, including a swollen throat or a lump in your throat, that makes it difficult to breathe
Shock, with a severe drop in blood pressure
Rapid pulse
Dizziness, light-headedness or loss of consciousness
How to Diagnose a Food Allergy
If you suspect that you have a food allergy, you should contact your GP who will help determine whether you have an allergy by taking a detailed case history of your reactions and perhaps making some tests. It will be most helpful if you can give the following information:
How quickly did the reaction start after you ate the food?
Did you take treatment for the allergy (e.g. antihistamines) and did it work?
Do you always get this reaction to the food? How much of it did you eat this time?
Did anybody else eating the food get ill? (If everybody got ill from a meal, it's more likely to be food poisoning than an allergy.)
How was the food cooked and stored?
Food Allergy Tests
Elimination Diets
Under the supervision of an allergy specialist, you remove the suspected allergy food from your diet and replace it with another food. For example, if your doctor suspects an egg allergy, you'd replace egg with a different food. If the allergy symptoms go away, a diagnosis can usually be made.
Skin Scratch Tests
Skin scratch tests, also called patch testing, are sometimes used to diagnose a food allergy. An extract of the suspect food is put on a small patch of skin on your arm or back, and a very small, fine scratch is made on the skin. If redness and swelling develops around the scratch, the test is positive for that food allergy.
Blood Tests
Another method of testing for food allergies is the RAST (radioallergeosorbent) test. This measures food-specific IgE in a blood sample. RAST tests may produce false positive results, but the advantage is that this test can be used to confirm a diagnosis for people with severe food allergies. This is because a sample of the patient's blood is tested, and so there is no risk of the suspect foods causing anaphylaxis.
You might also like...