Your Digestive System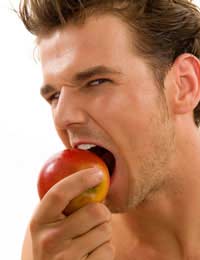 Mouth: The digestive process begins in the mouth. Foodstuffs are broken down mechanically by chewing and saliva is added as a lubricant. Most of the digestion of carbohydrates is completed in the mouth itself.
Oesophagus: The oesophagus connects the pharynx and the stomach. It is about 25 cm long and passes through the oesophageal opening of the diaphragm and ends at the stomach. The oesophagus transports food from the pharynx to the stomach through peristalsis.
Stomach: This is where digestive action truly begins. The stomach differs from other GI organs in that it has three layers of muscle instead of two. The epithelium of the stomach forms a series of deep troughs which contain different types of cells involved in digestion. The chief cells, at the base, are responsible for the production of pepsinogen, which breaks down proteins. Further up the troughs, parietal cells produce hydrochloric acid (HCL). This kills most of the bacteria in food and also stimulates hunger. The three layers of muscle are responsible for the churning motion that physically breaks down food.
Liver: The liver has a wide range of important and complex functions these include:
The production of proteins and blood clotting factors.
The synthesis, storage and metabolism of cholesterol and fatty acids.
The metabolism and storage of carbohydrates for the production of glucose for the brain and read cells.
Formation and secretion of bile acids to help the intestines absorb fats and fat soluble vitamins such as D, K, E and A
Elimination, metabolism and secretion of harmful toxins.
Detoxification, metabolism and secretion of substances such as alcohol and drugs.
Pancreas: The pancreas makes a number of juices and hormones, including insulin. Pancreatic enzymes assist with food digestion. Insulin controls the amount of sugar in the blood.
Small Intestine: The final stages of digestion occur in the small intestine. During the passage through the small intestine absorption of most of the water and electrolytes and all dietary organic molecules, occurs.
Large Intestine: The large intestine reabsorbs water and electrolytes from chyme remaining in the alimentary canal, and also forms and stores faeces. In addition, the large intestine is densely populated with bacterial flora that ferment cellulose and other undigested carbohydrated and synthesize B vitamins and vitamin K.
Absorption and Transportation of Nutrients
After digestion, food nutrients have to be absorbed into the blood stream. At this phase, the proteins are converted into amino acids. Compound sugars, carbohydrates and starches are converted into dextrose or glucose so that they can be absorbed into the bloodstream. The fats are broken down into fatty acids and glycerine.
The circulatory system carries the absorbed nutrients into the organs. The liver receives all the nutrients from the blood except the fat molecules which enter the lymph stream directly form the intestines. There the fats are assimilated into the body for storage and for energy.
You might also like...