Metabolism Explained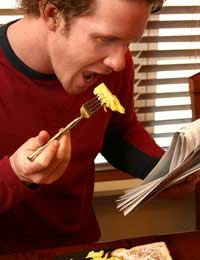 All of the bodily process we experience throughout our lives all generally carried out through chemical reactions within our organs, tissues and fluids. Metabolism is a process involving the breakdown of foods and nutritious substances into useable or stored energy. It also helps decide which substances are healthy for the body and which are not.It is a continuous process from conception to death and many thousands of metabolic processes can take place at any one time ensuring our tissues and cells are nourished and kept healthy.
Types Of Metabolism
The human body is influenced by two types of reactions, catabolism which concerns the actual breakdown of foodstuff into enzymes, and anabolism which is the transference of the enzymes produced by catabolism into energy.During catabolism, the food products we eat, in particular the carbohydrates, fats and sugars, are broken down and used to create the energy used for generating heat and to fuel cells. During the anabolic stage, the molecules are either stored or used for reconstructive purposes such as during wound healing.
Metabolism And Weight
The food we consume in our daily intake contains calories which are the building blocks for creating energy. If we consume too many calories, our bodies will turn what is not used as fuel into fat stores around the body, ready for use at a later time. For example, if a person eats an orange containing few calories, the body will probably burn these as fuel for everyday processes such as breathing and movement, but if a person eats a bar of chocolate containing lots of calories, what is not used will be stored as fat on the body until it is needed.
The amount of calories burned during the day will depend largely on how much movement the person does, therefore how much fuel is needed to provide the energy needed to move.If a person uses a lot of energy such as when exercising, they will either need to consume more calories to fuel this additional energy, or like most, will use energy stored as fat around the body.
This explains why healthy eating and exercise are so important for weight loss. Those wanting to lose weight will usually have a surplus supply of fat, therefore potential energy, around their body. If they consume a diet with enough calories to fuel a normal amount of movement and the body's natural processes, the energy needed to fuel exercise will be taken from the fat store which will eventually reduce as it is used.
Another factor that contributes to how many calories a person needs is affected by their basal metabolic rate. This is the speed at which the body processes the fuel and turns it into energy whilst at rest. This rate can be dependent on genetic factors, medical history and how much movement and exercise is normal for the person.It is possible to speed up the basal metabolic rate to some degree. Taking regular exercise, not simply every now and then, will help the body to regulate the metabolic rate over time.
Metabolism is an intricate subject that concerns the chemical processes that take place in the body regarding the conversion of food to useable energy. It is a process that is necessary for life but something that plays a major role in weight loss and weight gain. It is important for people to find an even balance between the calories consumed and the calories expended in order to maintain a healthy body.
You might also like...