Maintaining a Healthy Pregnancy Weight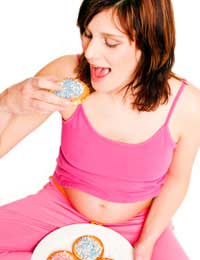 Pregnant women often hear the old adage that they're "eating for two". But while it's true that pregnant women need to eat a healthy diet that takes their baby's nutritional needs into account, that doesn't mean simply eating twice as much as they would normally.
Making healthy lifestyle choices and committing to healthy eating habits will not only help ensure you have a healthy baby, but also set the groundwork for sensible weight loss after pregnancy.
How We Gain Weight During Pregnancy
Everyone puts on weight during their pregnancy – and they should! But only a bit more than one-third of the weight you will gain while pregnant will come from the baby, the amniotic fluid and the placenta.
The other two-thirds will come from a variety of other sources, such as the extra blood pumping around your body, extra breast mass, an increased muscle layer in the womb and general body fat, which your body will need to cope with the pregnancy and have extra energy for breast-feeding once the baby arrives.
The NHS estimates that the average weight a woman will gain overall while pregnant is between 10kg and 12.5 kg (22-28lb). That figure can fluctuate wildly, however, depending on a variety of factors such as your race, age and body mass index (BMI) in relation to your height before you had your child.
Gaining Too Much Weight
Carrying excess weight whilst pregnant can result in various problems, such as gestational diabetes, high blood pressure and pre-eclampsia. It can also result in your having a very big baby, which can cause complications in itself, such as the need for an induced labour or Caesarean section.
Putting on a lot of excess weight whilst pregnant can be detrimental to both you and your baby, and many doctors recommend that overweight women shed some pounds before they even try to become pregnant.
But although being seriously overweight whilst pregnant carries risk, after becoming pregnant is never a good time to go on a diet. Instead, speak to your GP about developing healthy eating habits, ones that will hopefully stay with you and help you shed the pounds safely once you deliver.
Gaining Too Little Weight
The main difficulties with not gaining enough weight whilst pregnant are the possibility of having a premature labour, as well as delivering a baby with a low birth rate.
In some cases, low body weight is a problem a woman has before she becomes pregnant - if she has an eating disorder, for example - and should be discussed with a GP or counsellor trained in that field.
Gaining extra weight during the first and second trimesters can help ensure that your baby comes on time, and is a healthy birth rate.
Saying that, there are many healthy women who are naturally slim who have healthy, happy pregnancies and healthy babies with a good birth weight.
A Healthy Diet for You and Your Baby
Keeping healthy whilst pregnant isn't that difficult – with a little forethought and planning. Here are some tips to keep both healthy and gain the right amount of pounds:
Have plenty of fresh fruits and vegetables
Eat lean meat, fish and chicken
Swap white bread and rice for brown rice and wholemeal bread and grains
Drink plenty of water daily
Give up sugary drinks and foods that are lacking in nutrients. Instead of the empty calories that junk food provides, enjoy nutrition-rich foods such as fresh fruit and foods fortified with calcium etc
Regularly take ante-natal vitamins with folic acid, which can protect your unborn child from neural tube defects. This is vital during the first trimester in particular
Your midwife or GP should be able to advise you on your weight gain as your pregnancy develops. They should be able to tell you when to scale back or beef up your calorie intake, and give tips on what foods your growing body - and your growing baby - needs.
Gaining weight while pregnant is inevitable, and is actually a vital part in ensuring that your baby develops properly and is healthy. Make the most of what you eat. Not only will you be giving your baby the best start in life, but you'll also be helping yourself get back to your pre-pregnancy shape once the baby is born!
You might also like...