The Dangers of Being an "Apple" Shape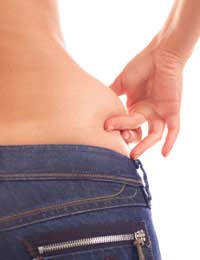 The majority of British women are "pear-shaped", meaning they have large thighs and bums but small waists and abdomens. Many women complain about having this type of shape, saying they don't like the way they look in clothes.
Often, pear-shaped women look longingly at their counterparts who have an "apple" shape, which often means small thighs and bums with weight on the belly. But while it may be easier to cover up a large tum in clothes, having an apple shape is by far the least healthy way to be.
In fact, having too much weight around your mid-section increases the risk of heart disease and diabetes, while being a pear shape may actually be good for you, studies have revealed. This applies to both men and women.
Learning About Your Shape
The Food Standards Agency recommends that we learn more about our natural body shapes, to plot what our certain health risks are. In particular, it recommends plotting your waist measurement against your height.
People who are pear-shaped, they say, store any excess fat they might have in healthy areas of the body, namely under the hips, thighs and bottom, where it can do no harm.
Apple shapes, on the other hand, store fat in the abdominal area deep below the skin, where it puts pressure on organs and can contribute to heart disease, Type II diabetes, high blood pressure and some kinds of cancer.
The Good News
While it may be dispiriting to discover that you are an apple shape, there are many exercises that can help take care of the problem. And women who fall into this category almost always find their bodies respond well to exercise, so take heart.
Women who are an apple shape and start any diet or exercise plan should consult their GP first. Women who are very overweight should be careful of putting too much strain on their ankles and knees in the beginning. Always consult a medical professional before embarking on any diet or exercise plan.
Exercises for Apple Shapes
Here are some top tips for exercising that excess weight away:
Try cardiovascular exercise. Exercising for heart health is very important to help get rid of fat around the internal organs.
Apples who are very overweight can start with walking, then work up to more intense work-outs.
Very overweight apples can also start rowing and cycling first as part of their initial cardiovascular routine.
More fit apples should have no problem eventually running regularly.
Make sure you cushion your joints and do proper warming up and cooling down exercises.
Stair-climbing, leg lifts and walking on an incline are all recommended.
Your body shape is determined only in part by genetics: the rest all depends on your regular exercise and diet routines. There is no reason why we cannot work toward getting the shape we want, through healthy eating and regular exercise designed for our own specific shapes.
Reducing excess abdominal fat will take time, especially if you are a natural apple body shape, but if you care about your overall health you will make the time to do it. Following a healthy weight loss program and exercising regularly are key.
You might also like...