Is Dieting Safe For Kids?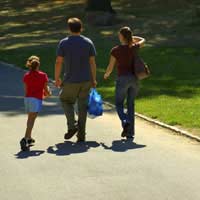 Children need a diet rich in nutrients because they are growing and have high energy requirements. However, just like adults, if they consume more calories than they expend they quickly become over weight. Childhood obesity is an increasing problem in the Western world. It is estimated that up to 15% of children in the UK are overweight or obese. The number of overweight and obese children in the UK has risen steadily over the past 20 years, and continues to rise. Children who are overweight tend to grow up into adults who are overweight. They therefore have a higher risk of developing serious health problems in later life, including heart attack and stroke, type II diabetes, bowel cancer, and high blood pressure.
Why Are More Children Overweight?
A very small number of children are actually over weight due to medical reasons. The main reasons for overweight and obesity in childhood are an unhealthy diet and insufficient exercise. An increase of fast food, sweets in our Western diets is contributing dramatically to childhood obesity. Nowadays most children ride to school, and most other places, this means they get very little physical exercise. At home many children spend much of their time watching television or playing computer games. This means they spend less time than ever playing outside. This kind of sedentary lifestyle increases weight gain significantly.
Maintaining a Healthy Weight.
Some parents may find it difficult to tell if their child is actually overweight or just as some "puppy fat". The Body Mass Index, (BMI) alone is not an appropriate measure for children - it has to be used alongside charts that take into account the child's rate of growth, sex and age - and is best interpreted with the help of your GP, health visitor, practice nurse or dietician.
It is possible to measure the proportion of a child's weight that is made up of fat. Generally speaking, a child's weight is classed as obese when their body weight is more than 25% fat in boys and 32% in girls. Is dieting safe for kids?
Children should never be put on a weight loss diet without medical advice. Weight loss diets can affect children's growth and must be carefully structured by a dietician to suit individual needs. The best thing you can do is promote a healthy weight in your child by encouraging healthy habits such as:
Set a good example with your own eating habits.
Provide meals and snacks at regular times to prevent "snacking" throughout the day.
Don't allow your children to eat while watching TV or doing homework.
Eat as a family group as often as possible.
Teach children to chew food more slowly and savour the food.
Do not keep lots of high-fat, high-sugar snack foods in the house.
Do not make outings for fast foods part of the weekly routine.
Get children involved in preparing food as this will make them more aware of what they are eating.
Encourage walking to places such as school and the shops, rather than always jumping in the car.
Suggest going to the park for a kick around with a football, or a game of rounders, frisbee.
You might also like...