Prader-Willi Syndrome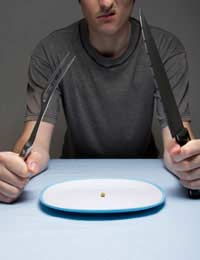 History of Prader-Willi
Prader-Willi Syndrome (PWS) was first discovered in 1956 when endocrinologists Prader, Labhart, and Willi published their findings which described an unusual pattern of childhood abnormalities. These abnormalities included diminished foetal activity, undeveloped muscle tone, feeding problems in infancy, underdeveloped sex organs, short stature and retarded bone age, small hands and feet, delayed developmental milestones, characteristic faces, cognitive impairment, onset of gross obesity in early childhood due to insatiable hunger, and a tendency to develop diabetes in adolescence and adulthood when their weight was not carefully controlled.
Causes of Prader-Willi
Initially doctors had not idea what caused PWS. Then in 1981, Dr. David Ledbetter and his colleagues made a major discovery. They noticed that all the people with PWS that they were studying had the same segment of genes missing from one of their chromosomes. Since then there have been more discoveries about the genetic factors of PWS. We now know that more than one gene is involved and that these genes are clustered together on the "long arm" of chromosome 15. It is the mother's genes in this area that are "turned off" through a rare phenomenon called "genomic imprinting." There are at least three different chromosome errors that can stop these genes from working properly. PWS can occur in any conception; it is not necessarily inherited, though parents may have a 50-percent chance of having another child with PWS.
Prader-Willi Syndrome and Weight Management
PWS is one of the 10 most common conditions seen in genetics clinics and is the most common genetic cause of obesity that has been identified. One of the biggest problems with PWS is insatiable appetite. People with PWS have a flaw in the part of their brain (the hypothalamus) that determines hunger and satiety (fullness). These people never feel full enough, so they have a continuous urge to eat. Patients with PWS also have markedly elevated ghrelin levels- a hormone responsible for turning hunger on and off, suggesting that it may be responsible for the increased food intake. People with PWS cannot fight their compulsion to get at food. Weight management plans are usually individualised and it is recommended that food is kept inaccessible at all times other than when specific meals are given. Diet control and exercise programs are needed for people of all ages with PWS, to prevent obesity and its life threatening complications. The complications include diabetes, hypertension, breathing difficulties, heart disease and skeletal problems. The use of medications and appetite suppressants have met with only limited success.
Behavioural Problems
Most people with PWS syndrome have behavioural problems which may include temper tantrums, stubbornness and obsessive-compulsive disorder. The problems may be difficult to control and an evaluation, counselling and treatment by a mental health specialist such as a psychologist or psychiatrist may be helpful.
Treatments for Prader-Willi Syndrome
More recently, growth hormone has been used to treat people with PWS and has met with success in treating short stature and reducing fat mass. Growth hormone therapy also appears to increase muscle mass, strength and endurance, allowing for more physical activity. Simple exercise is also important to help increase coordination and balance.
You might also like...