Cooking Healthily to Keep Your Family Slim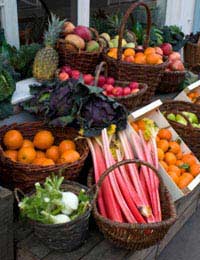 In today's face-paced world, the temptation to order an Indian take-away, buy a ready-meal or pop down to the kebab shop can be overwhelming. Few of us have the time to cook lavish meals for our family, and as a result our waistlines suffer.
But meals don't have to be lavish to be healthy. In fact, once you know the parameters of what constitutes healthy eating, you can be whipping up satisfying, healthy meals your entire family will love without a whole lot of effort.
Before you break out the pinny, however, have a look at the basics of healthy eating. Before you know it, your family will be eating better – and feeling and looking better – in no time.
Avoid the "Bad" Fats
Avoiding all types of fat is a no-no. We need some fat in our diets to help nutrition absorption, maintain the integrity of our cells and other reasons. But too much fat contributes to heart disease and high blood pressure. The trick is to tell the good fats from the bad.
Good: Monounsaturated fats are the good ones – they can actually help lower cholesterol. They are found in canola and olive oils, avocados and many nuts, including peanuts and pistachios.
Good: Polyunsaturated fats are also healthy, and include oily fish, which are rich in omega-three fatty acids, and oils such as sunflower, soy and corn.
Bad: Saturated fats raise blood and LDL cholesterol, the "bad" cholesterol. Many types of seafood contain this fats, as well as red meat, dairy, eggs and some types of oils such as palm and coconut oil.
Bad: Trans-fats are the ones that are "hydrogenated" to last longer in your larder, and include many commercially packaged foods. Read the labels!
Cooking with the right type of oils, avoiding many types of pre-packaged foods and cutting down on red meal all help avoid the bad fats. Additionally, swap full-fat milk and other high-fat dairy products for low-fat ones.
Grill Instead of Fry
In the summer, using an outdoor barbecue is a great way to cut down on unhealthy fats and fill up on fruit and veg at the same time. Grill lean meat, chicken or fish, as well as large mushrooms, courgette strips, corn on the cob and even tomatoes. Add a large salad – add olive oil instead of salad cream - and you have a healthy meal.
In fact, buying a grill, a vegetable steamer, a breadmaker (for low-sodium wholegrain breads) and a slow-cooker (for healthy low-sodium soups and casseroles) are sound investments in healthy eating which no home should be without out.
Cut Down on Salt
Too much salt in the diet raises blood pressure, which eventually can lead to heart attack and stroke. Unfortunately, many of us get used to putting large amounts of salt in our food, believing we cannot live without it.
Start by purchasing low-sodium salt, soy sauce, etc. Then substitute other things for salt including spices, ginger and lemon juice. Choose unsalted nuts and snacks and read the labels. The rule is that 1.5 g of salt per 100g of food is considered very high, 0.3 or less is low.
Making your own versions of stock items you would normally buy helps, including low-sodium gravies and stock and homemade bread made without salt. You'll be surprised how quickly you can get used to a low-sodium diet!
Top Tips
Here are some top tips to make the whole family healthier – and ultimately slimmer…
Trim all fat from meat before cooking and eat more fish instead. Oily fish is an important part of our diet, as it contains the omega-3 fatty acids we lack. Try to serve it at least twice a week.
Serve more fruit and veg and get your children used to fruit-based snacks. When preparing veg, steam or cook them in water only. And to maintain maximum vitamins, don't boil your vegetables until they are soft.
Cook with olive or canola oil, instead of margarine or butter, and never use a deep-fat fryer.
Avoid processed food, including ready-meals, which are high in salt and fat. A quick meal of wholegrain pasta with a healthy sauce is quick and much better for you.
Portion out food, which ultimately is better than allowing your family to pile it on.
Swap high-fat desserts with fresh fruit and berries, and ration sweets. Serve fatty puds only on special occasions.
Serve wholegrain breads, pasta and rice instead of white rice and white flour-based products.
Offer only water or low-fat milk with meals, instead of sugary drinks. Drinking plenty of water helps flush out the system and keeps us hydrated, which is good not only for our digestion, but also for our skin.
Cooking healthy meals isn't brain surgery, and once you get the hang of it your whole family will benefit. And when the pounds start coming off, treat them to some new clothes - instead of a slap-up, high-fat meal!
You might also like...